Nutribar High Protein Double Chocolate Fudge Bars
Meal Replacement
5 Bars (325 g)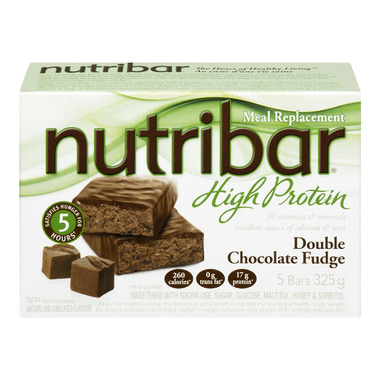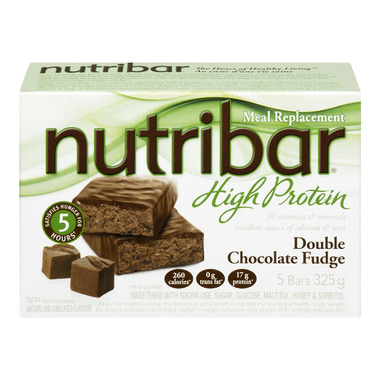 Nutribar High Protein Double Chocolate Fudge Bars
Meal Replacement
5 Bars (325 g)
A rich chocolatey bar with a fudge layer on top. It's the ultimate indulgence.
For anyone looking for more protein in their diet, Nutribar High Protein is for you. Protein provides the building material for the growth, maintenance and repair of all body tissues, including muscle. The more lean muscle mass you have, the more efficient your body becomes at burning calories and body fat.
Nutribar High Protein contains more protein than our other products without compromising on taste. You'll be sure you're getting the added protein you want from each meal replacement, but you'll also be getting 24 vitamins and minerals and an excellent source of calcium and iron. That's a great deal by anyone's standards. So grab a bar or a shake today and start living healthy!
Ingredients:
Protein blend (soy protein isolate, modified milk ingredients, milk protein isolate), chocolate flavoured coating (sugar, modified palm kernel oil and palm oils, cocoa, soy lecithin, natural vanilla flavour), glucose-fructose, maltitol syrup, soy crisp (soy protein isolate, tapioca starch, malt extract), polydextrose (2.8 g / 65 g serving), cocoa powder, fructose, soybean oil, soy lecithin, sorbitol, modified palm kernel oil, honey, fructo oligosaccharides, glucose, brown flax seed meal, oat fibre, skim milk powder, natural and artificial flavours, salt, mono-diglycerides, gellan gum, sucralose (1.2 mg / 65 g serving). MAY CONTAIN TRACES OF PEANUTS AND / OR OTHER NUTS.
Vitamins & Minerals:
Potassium chloride, dicalcium phosphate, magnesium oxide, niacinamide, ascorbic acid, dl-alpha tocopheryl acetate, vitamin A palmitate, manganese sulphate, zinc oxide, copper gluconate, pyridoxine hydrochloride, calcium pantothenate, riboflavin, thiamin mononitrate, sodium molybdate, cyanocobalamin, ergocalciferol, sodium selenite, chromium chloride, folic acid, potassium iodide, biotin.