Nutricap Hair Growth - Men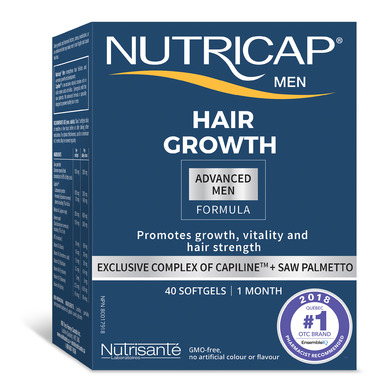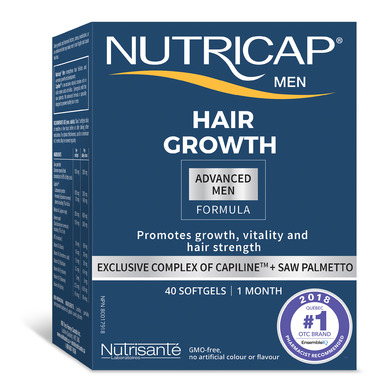 Nutricap Hair Growth - Men
Hair loss affects most men. Although the main cause is genetic, certain factors such as stress, medication or hormones can increase hair loss and lead to a loss of self-esteem.
Discover NUTRICAP Hair Growth-Men, a capsule incorporating all the essential nutrients needed to nourish, fortify, and stimulate fine, thinning hair, thus curtailing hair loss.
An exclusive combination of natural active ingredients recognized for their beneficial effects:
- Saw palmetto provides phytosterols and fatty acids that help regulate DHT (dihydrotestosterone), the main hormone responsible for baldness.
- Walnut oil, very rich in essential fatty acids, nourishes the scalp in depth and gives hair its shine.
- Horsetail extract, rich in silica, boosts and strengthens hair and nails.
- Whey extract contains sulfur amino acids that contribute to hair's resilience, flexibility, volume, and shine.
- Brewer's yeast provides the zinc needed to preserve healthy hair.
- B-group vitamins foster microcirculation of the blood, stimulate keratin synthesis and in so doing, contribute to hair growth.
- Vitamin E, recognized for its antioxidant properties,prevents the damage caused by free radicals.
Nourished from within, hair's strength and vitality are restored.
Features:

Promotes hair growth and development
Strengthens hair
Contributes to support the integumentary system (hair, nails, skin)
Silicon intervenes in collagen formation - helps to contribute to hair and skin health

Recommended use:
(men, adults) Take 2 capsules daily while eating, a few hours before or after taking other medications.
Medicinal Ingredients:
Each softgel capsule contains 2.25 mg of thiamine, 3.2 mg of riboflavin, 18 mg of niacin, 15 mg of pantothenic acid, 3 mg of vitamin B6, 45 mcg of biotin, 30 mg ATE of vitamin E, 150 mg of Brewer yeast (Saccharomyces cerevisiae) standardized to 10% zinc, 100 mg of lactoserum protein, 70 mg of horsetail (Equisetum arvense) stem extract standardized to 7% silica, 300 mg of walnut (Juglands regia) oil and 100 mg of saw palmetto (Serenoa repens) fruit extract standardized to 90% fatty acids.
Non-Medicinal Ingredients: Lecithin, partially hydrogenated soybean oil, gelatin, caron, glycerin.

Caution: Do not use if you are taking diuretics. Do not use if you are allergic to nuts. Do not use Horsetail if you suffer from edema, associated to cardiac or renal dysfunction as well as severe renal or cardiac impairment. Do not give to children.