Nutripur
Nutripur BambouSil Hair-Skin-Nails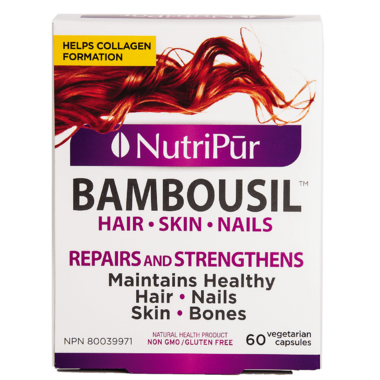 Nutripur
Nutripur BambouSil Hair-Skin-Nails
Description
For shiny and voluminous hair, strong nails, healthy skin and strong bones, take BambouSil Hair-Skin-Nails. Bambousil is a concentrated source of silicon, vitamins, minerals and amino acids that helps in collagen formation. This exclusive formula is beneficial to maintain healthy hair, skin and nails.
Features & Benefits:
100% Natural
For the maintenance of healthy hair, skin, nails and bones
Helps in collagen formation
Essential amino acids for the maintenance of good health
Helps to maintain immune function
Helps the body to metabolize carbohydrates, fats and proteins
Helps in the formation and repair of connective tissue.
Helps to maintain healthy skin.
No artificial colours, no preservatives, VEGAN, gluten free, lactose free, GMO free

Bambousil helps to improve hair loss, thinning hair and breakage, dry, brittle and ridged nails. It also helps to relieve symptoms of demineralization, osteoarthritis, arthritis, fibromyalgia, tendonitis, bursitis, tennis elbow, back aches and sciatica.
Medicinal Ingredients:
Each capsule contains:
Silicon ... 40 mg
Extracted from: Bamboo (Bambusa vulgaris) (stem) ... 122.50 mg
L-Lysine (hydrochloride) ... 75 mg
L-Methionine (dl-Methionine) ... 25 mg
Vitamin C (Calcium ascorbate) ... 25 mg
Vitamin B1 (Thiamine hydrochloride) ... 12.5 mg
Vitamin B2 (Riboflavin) ... 12.5 mg
Vitamin B3 (Niacinamide) ... 12.5 mg
Vitamin B5 (Calcium-d pantothenate) ... 12.5 mg
Vitamin B6 (Pyridoxine HCL) ... 12.5 mg
Zinc (Citrate) ... 5 mg
Copper (Gluconate) ... 450 mcg
Biotin ... 250 mcg
Non-medicinal ingredients: Magnesium stearate (vegetable source), hypromellose (vegetable capsule). Doesn't contain gluten, dairy products, soy or corn.
Instructions:
Adults: Take 1 capsules twice daily with meals. Take 2 hours before or after taking other medications. For optimal results, this program is recommended for a minimum of 4 to 6 months.

Contraindication:
Consult a health care practitioner prior to use if you are following a low protein diet. For adult use only.
All Nutripur products are manufactured in a manner that exceeds industry standards and are rigorously tested in accredited laboratories for toxic contaminants and heavy metals assuring the safety, purity, efficacy and high-quality of their products.
Highlights

Shipping & Returns