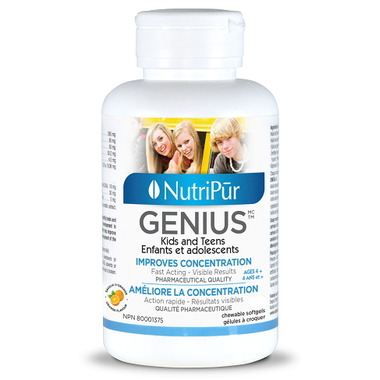 Description
Help your child excel in school with Nutripur Genius Kids & Teens gel caps. Exclusive formula providing omega-3s and other beneficial nutrients that help support learning, and are also necessary for the proper development of the nervous system during the growing years of children and teenagers.
Recommended for improving concentration and school performance, reducing symptoms related to attention deficit disorder (ADD/ADHD), strengthening a healthy immune system, and strengthening healthy eyes.

IFOS Certification: IFOS sets the world's highest standards for fish oil safety, purity, quality, potency and freshness. We are certified by IFOS and have been given a 5 STAR RATING!!

Features:
Delicious-tasting orange flavour
Significantly improves concentration and performance in school!
100% natural
Strengthening healthy brain and eyes
Helps to support mental function and development in children.
Aids in the development of the nervous system.
May help in the management of Attention Deficit Disorder with or without Hyperactivity (ADD/ADHD).
No artificial colours, no preservatives, gluten free, lactose free, GMO free
GENIUS can be taken in combination with ADD/ADHD medication.

Fast acting visible results in only a few days
Contains high concentration of DHA and EPA omega-3s
Rich source of AA and GLA
Wild tuna fish oil / Wild fish oil blend (mackerel, anchovy, sardine)
Docosahexaenoic acid (DHA), an essential omega-3 fatty acid, is mainly concentrated in the brain and retina cells. It has been recognized as essential for infant brain development and retinal function. Studies of preterm infants have shown the importance of dietary DHA in learning. DHA has further been shown to play an important role in treating ADD/ADHD.

Eicosapentaenoic acid (EPA) also belongs to the omega-3 family and is essential for the production of anti-inflammatory compounds. DHA and EPA are found primarily in cold water fish such as mackerel, sardines, anchovies and tuna.
Children 4 years and older: Capsules: Take 4-6 capsules daily (Refrigerate after opening)

Medicinal Ingredients: 1 teaspoon contains::
Wild Fish oil (Thunnus Alalunga) 1060 mg
Borage oil (Borago officinalis) 320 mg
ORGANIC Flax seed oil, cold press (Linum usitatissimum L.) 200 mg
Soy Lecithin (Glycine max,bean) 200.8 mg. Providing: Phosphatidyl choline 18 mg
Vitamin E (d-alpha- tocopherol) 54 iu / 36.36 mg
Non-medicinal Ingredients: Antioxidant blend (mixed tocopherols, ascorbyl palmitate, citric acid),natural orange flavour, certified ORGANIC stevia rebaudiana leaf.
OMEGA-3
Docosahexaenoic acid (DHA) 264 mg
Eicosapentaenoic acid (EPA) 52 mg
Alpha-Linolenic acid (ALA) 104 mg
OMEGA-6
Gamma-Linolenic acid (GLA) 64 mg
Linoleic Acid (LA) 140 mg
Arachidonic acid (AA) 20 mg

Highlights

Shipping & Returns