Nutripur
Nutripur IntesFib Fibre Capsules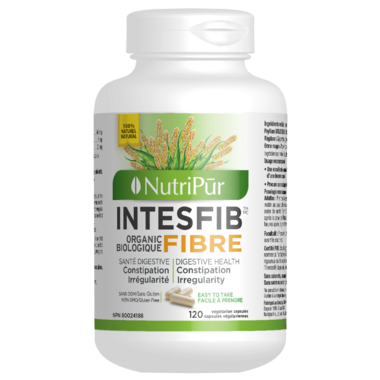 Nutripur
Nutripur IntesFib Fibre Capsules
Description
IntesFib is an exclusive blend of 93% pure psyllium fibre and of 3 beneficial herbs for intestinal health. IntesFib is an excellent source of fibre, with each serving supplying 50% of the recommended daily intake of fibre necessary for intestinal health.
IntesFib relieves constipation and lowers cholesterol levels in those with high cholesterol. It also provides relief from occasional constipation and bloating. IntesFib is the ultimate solution! It can even help relieve nasty symptoms of candida albicans, colitis, diarrhea, diverticulitis, intestinal irregularities, irritable bowel syndrome, and diverticular disease.
Features & Benefits:
All natural source
No sugar, salt, colours, or preservatives.
Very high source of fibre
Helps with weight management
Relieves constipation and bloating
Vegan
Gluten Free
Lactose Free
GMO Free

Medicinal Ingredients:
Each capsule contains:
Psyllium (seed) (Plantago ovata) ... 465.0 mg
Licorice (root) (Glycyrrhiza glabra) ... 5.0 mg
Red Elm (bark) (Ulmus fulva) ... 0.5 mg
Non-Medicinal Ingredients:
Hibiscus, gelatin.
More about the herbs...
Psyllium seed's exceptional richness in mucilaginous psyllium fibre confers it properties that relieve constipation by reducing the total duration of the intestinal transit. Furthermore, psyllium (plantago ovata) is now recognized to help reduce slightly elevated cholesterol blood levels as well as relieve diverticulosis and irritable bowel syndrome.
Recognized as an anti-inflammatory, Licorice root effectively relieves the irritated mucous membranes of the gastrointestinal tract. Its antibacterial properties confers it the capacity to fight against certain intestinal pathogens.
The mucilage content of Red Elm protects and relieves irritated intestinal mucous membranes. It also aids in preventing diarrhea. Furthermore, Red Elm is recognized to calm multiple inflammations of the digestive tract, in particular the ones affecting the intestines (ex.: colitis).
Abundantly cultivated in tropical regions and in Europe, the Hibiscus flower is recognized for its virtues as a mild laxative for the intestines.
Instructions:
Adults: Take 6 capsules once or twice a day, with water or juice, in the morning before breakfast and/or at bedtime or, as directed by your health care practitioner. Follow with an additional glass of liquid. Maintain adequate fluid intake. Take 2 hours before or after taking other medications. Laxative effect observed 12-24 hours after first dose, and may take 2-3 days.
Optional: Take during the day (not immediately prior to bedtime).
First time users: Begin with 6 capsules a day and gradually increase, if needed, to 6 capsules twice a day or as directed by a health care practitioner. If bloating is noticed, reduce quantity until your system adjusts.
Note: It is important to always drink plenty of water daily during fibre intake.
CAUTION:
Consult a health care practitioner if symptoms worsen or if laxative effect does not occur within seven days. Consult a health care practitioner immediately if you experience chest pain, vomiting, or difficulty in swallowing or breathing after taking this product. Consult a health care practitioner prior to use if you have symptoms such as abdominal pain, nausea, vomiting or fever (as these could be signs of abnormal constrictions of the gastrointestinal tract, diseases of the oesophagus and/or the superior opening of the stomach (cardia), potential or existing intestinal blockage, paralysis of the intestine, megacolon, faecal impaction, inflamed bowel or appendicitis). Consult a health care practitioner prior to use if you are taking medications which inhibit peristaltic movement (e.g. opioids, loperamide). Consult a health care practitioner prior to use if you have a liver disorder. Consult a healthcare practitioner if pregnant or breastfeeding.
Contraindications:
Do not use if you have difficulty swallowing. Do not use if you have diabetes mellitus in which blood sugar is difficult to regulate. Do not use if you are experiencing a sudden change in bowel habits that has persisted for more than 2 weeks, undiagnosed rectal bleeding, or failure to defaecate following the use of another laxative product. Do not use if you are taking thiazide diuretics, cardiac glycosides, corticosteroids, stimulant laxatives or other medications which may aggravate electrolyte imbalance. Do not use if you have hypokalemia, high blood pressure, or a kidney or cardiovascular disorder. Known Adverse Reactions: Hypersensitivity, such as allergy, has been known to occur following inhaled and/or ingested psyllium; in which case, discontinue use. May cause temporary gas and/or bloating.
All Nutripur products are manufactured in a manner that exceeds industry standards and are rigorously tested in accredited laboratories for toxic contaminants and heavy metals thereby assuring the safety, purity, efficacy and high-quality of their products.
Highlights

Shipping & Returns