Nutripur Somerol Deep'N Easy Sleep Remedy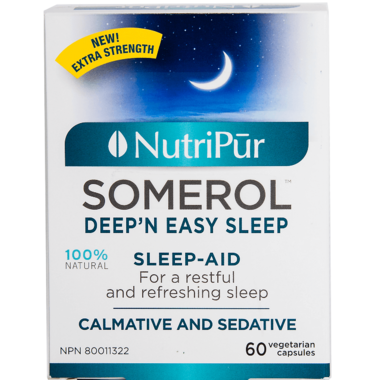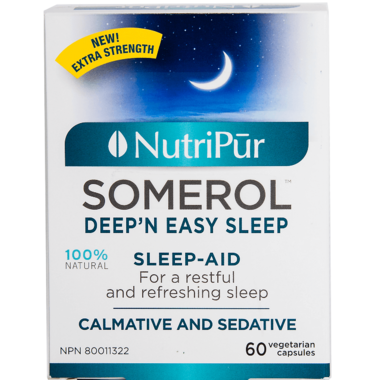 Nutripur Somerol Deep'N Easy Sleep Remedy


Do you have difficulty sleeping? Somerol promotes a deep and easy sleep. Somerol is a combination of herbs with sedative properties to naturally improve the quality of sleep and help relieve nervousness.
Features & Benefits:
Helps promote restful and revitalizing sleep
Excellent for restlessness or insomnia due to mental stress
100% natural and safe
Fast acting and effective
No artificial colours, no preservatives, Vegan, gluten free, lactose free, GMO free

Medicinal Ingredients: Each capsule contains:
Valerian extract (root) (Valeriana officinalis) 225 mg; 4:1 extract equivalent to 900 mg of valerian.
Passion flower extract (herb top) (Passiflora incarnata) 115 mg; 20:1 extract equivalent to 2300 mg of passionflower.
Hops extract (strobile) (Humulus lupulus) 115 mg; 10:1 extract equivalent to 1150 mg of hops.
Lemon Balm extract (herb top)(Melissae officinalis L) 50 mg; 4:1 extract equivalent to 200 mg of lemon balm.
Non medicinal ingredients:
hypromellose (vegetarian capsule), magnesium stearate (vegetable source).
More about the herbs...
A universal remedy, the relaxing and tranquillizing effect of valerian root improves the quality and intensity of sleep. An efficient sleep-inducing plant, valerian stops frequent broken sleep and insomnia.
Passionflower, an antispasmodic and sedative, does not depress the nervous system. It effectively reduces anguish which often gives rise to noctural tension and agitation, responsible for insomnia.
Often recommended for therapeutic sleep, hops soothes nervous stomachs and intestines (cramps, spasms nausea, gas).
Lemon Balm is a brain and nervous system tonic. Lemon balm improves control over the emotions, like excitability of the nervous system and reduces irritability.
Recommended Dosage:
Adults and adolescents over 13 years old: Take 1-2 capsules with water 30min before bedtime. For prolonged use, consult a health care practitioner.
Caution:
Consult a health care practitioner if sleeplessness persists continuously for more than 3 weeks (chronic insomnia). Consult a health care practitioner prior to use if you are pregnant or breastfeeding. Consumption with alcohol, other medications or natural health products with sedative properties is not recommended. Consult a health care practitioner prior to use if you have depression and/or related diseases.
Known Adverse Reactions:
Hypersensitivity (e.g. allergy) has known to occur; in which case, discontinue use. Some people may experience drowsiness.
Do not operate heavy machinery or drive a motor vehicle within 2 hours of consumption when taking this product.
All Nutripur products are manufactured in a manner that exceeds industry standards and are rigorously tested in accredited laboratories for toxic contaminants and heavy metals assuring the safety, purity, efficacy and high-quality of their products.