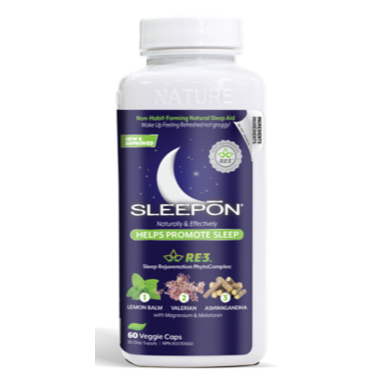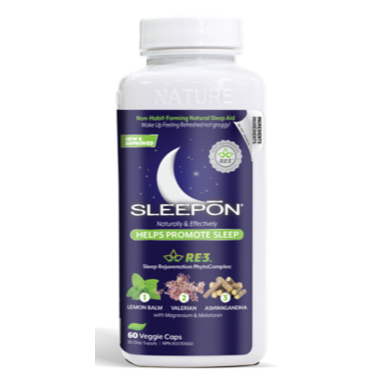 Nuvocare SleepON

SleepOn is a non-habit-forming natural sleep aid. SleepOn® is based on key research published in peer-reviewed human studies conducted in Italy, India and the United States. SleepOn® is further supported by over 295 peer-reviewed published clinical studies and government monographs validating both the safety and effectiveness of the formulation. The science behind SleepOn® proves that the SleepOn® formulation effectively addresses:
Elevated Anxiety
Elevated Plasma Cortisol levels
Inability to fall asleep and stay asleep
Features:
Helps you fall asleep faster & sleep longer the first night!
Clinically proven to lower factors that reduce sleep quality
Eases anxiety by 49% and relieves body-tension
Decreases stress hormone levels by up to 21%
Increases human growth hormone (HGH) release by 254%
Safe, natural & non-habit forming
SleepOn® combines the world's best and most proven natural sleep-aids designed to help improve sleep quality and duration. RE-3™ precisely combines 3 herbal extracts standardized with KEY-PLANT-NUTRIENTS that promote better sleep synergistically:
Lemon Balm Extract: Several studies show that lemon balm combined with valerian helps reduce anxiety and promotes sleep.
Valerian Root Extract: Helps support GABA levels in the brain, helping reduce brain activity allowing users to fall asleep more easily.
Ashwagandha (Withania somnifera) Extract: As an adaptogen, it helps the body better manage stress caused by the stress-hormone cortisol.
Recommended Dose:
Take one serving (2 capsuls) 30-60 minutes prior to sleep on an empty stomach with 150-200ml of water. Safe to use daily or only when you need help sleeping.
Ingredients:
SERVING (2 Capsules): 125mg Sensoril® Indian Ashwagandha Extract (Withania somnifera) (Root & Leave) [32% (40mg) Oligosaccharides, 8% (10mg) Glycowithanolides, 2% (2.5mg) Withaferin A], 2.5mg Magnolia Extract (Bark) [5% (0.125mg) Magnolol], 2.5mg Suntheaine® L-theanine (Japanese Source), 600mg Cyracos® French Lemon Balm Extract (leaf) [17.5% (105mg) Hydroxycinnamic Acids and 11% (66mg) Rosmarinic Acid], 190mg Skullcap (root) [30% (57mg) Baicalin], 2.5mg French Passion Flower Extract (flower) [3.5% (0.09mg) Vitexin], ValeriPure™ Odorless French Valerian Extract (Root) [0.8% (0.02mg) Valerenic Acid], 50mg L-Glutamine (Japanese source), 50mg L-Glycine (Japanese source), 1.5mg Melatonin (German source), 30mg Vitamin C (as calcium ascorbate), 0.5mg Vitamin B6 (Pyridoxine hydrochloride), 3mcg Vitamiin B12 (Cyanocobalamin), 175mg Magnesium (as aspartate/oxide)
Cautions:
Consumption with alcohol, or drugs with sedative/hypnotic properties is not recommended.
Do not use if you are taking immunosuppresive drugs as SleepOn may help improve immune system function.