Oceans Alive Fresh Marine Phytoplankton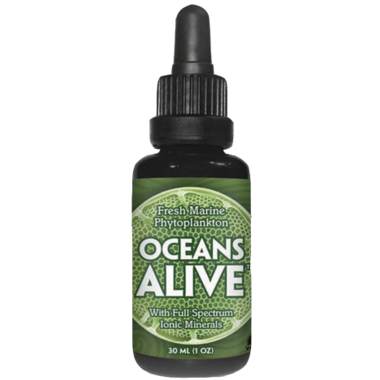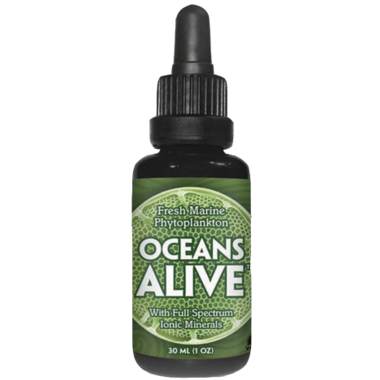 Oceans Alive Fresh Marine Phytoplankton
Ocean's Alive is an original, live, whole, concentrated supplement requiring no refrigeration and comes packaged in 1 oz. cobalt blue glass bottles with droppers for easy dispensing. It is never dried and never frozen… In a purified ocean mineral base.
Fresh marine phytoplankton is a source of vegetarian EPA and DHA, 19 amino acids in a naturally formed amino matric, vitamin A, beta-carotene, chlorophyll, magnesium and full spectrum ionic minerals. It is also a powerful inflammation reducing agent.
Features:
Nature's first food, rapid absorption
The Primordial source for Vegetarian EPA and DHA
Source of 19 essential amino acids (natural formed amino matrix)
High in Magnesium, Vitamin A and Beta Carotene
Natural full spectrum of ionic minerals
High in Chlorophyll (ATP production)
Reduces inflammation
Lab grown single strain nannochloropsis
Benefits:
Essential fatty acids – Omega 3, 6, 7, 9
Instant trace mineral gratification with 92 macro and trace minerals
A gentle yet powerful energy boost that builds up naturally; residually day by day
Whole body homeostasis
Assist to regulate blood sugar naturally
Eyesight improvement and increased strength
Skin appears more vibrant and younger
Calming of the mind and body with enhanced meditation
Speeds the recovery from illness and disease
Relieves symptoms of heartburn
Memory improvement
Assists to strengthen the immune, nervous, and endocrine system
Antiviral, antifungal, and antibacterial
Helps defend against radiation
Powerful anti-inflammatory & antioxidant qualities
Improves circulation & heart function
Helps with allergy & asthma relief

Ingredients: fresh (not freeze dried) lab grown, single strain marine phytoplankton added to purified ionic ocean minerals.
Suggested Usage: 15 drops per day in water, provides 350mg of concentrated marine phytoplankton.