OFF! FamilyCare Insect Repellent Lotion Towelettes for Kids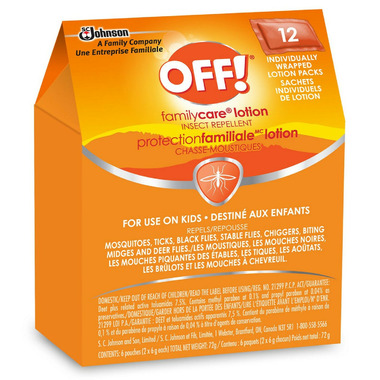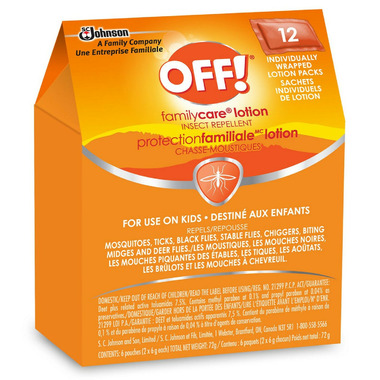 OFF! FamilyCare Insect Repellent Lotion Towelettes for Kids
The OFF! FamilyCare Insect Repellent Towelettes let's you repel mosquitoes, black flies, stable flies, chiggers, biting midges and deer flies on-the-go. This non-greasy and travel friendly option won't stain and makes for optimal convenience. Lotion form also facilitates safe application so you can apply product only where needed.
12 individually wrapped towelettes. Each towelette repels mosquitoes for up to 3 hours.
Ideal for use when:
Relaxing in the backyard
Gardening
Entertaining outdoors
Going to the playground
Features:

Convenient application
Perfect for on-the-go
Non-greasy

Does not stain
Formulated with 7.5% DEET—provides up to 5 hours of protection against mosquitoes.
Active Ingredients: Contains 7.5% DEET plus related active toluamides