Ombra
Ombra Deodorant Roll-on Mild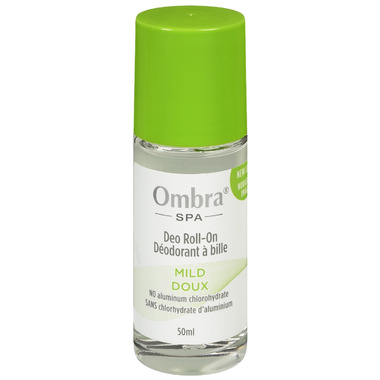 Ombra
Ombra Deodorant Roll-on Mild
50 mL
Ombra Deodorant Roll-on Mild
is rated out of
5
by
23
.
---
Description
... contains no aluminum chlorohydrate

The Roll-on Deodorants Mild and Sport provide a gentle freshness and all day protection. There are no added colours or preservatives and the mild ingredients prevent skin irritations. Both products go on clear with no residue.

The Mild Deo Roll-on is a unique deodorant that has become a great seller since its introduction in 1997. It contains natural camomile extract oil, Farnesol and has a skin neutral value of 5.5.

Please note: These products are not anti-perspirants.
Rated

4

out of

5
by
Anita
from
Agree on the scent being somewhat strong, but it is a good product nonetheless. I sometimes take comfort in the strong scent, since it has no anti-perspirant quality, though if you have sensitivity to smell, this scent can be overwhelming. I love the more natural ingredient list, specifically that it contains no aluminum. Does require laundry to be washed more frequently though if you sweat a lot. Kind of eye opening - I didn't realize how much my anti-perspirant was doing to stop the sweat, so overall I think my body's happy that I'm letting it function as it should.
Date published: 2015-09-24
Rated

5

out of

5
by
softy
from
Best thing ever.
I love this stuff! It generally smells good all day for me. It doesn't stop me from sweating, but I'm fine with that! There is no build up like you might get from a typical stick deodorant, or the skin irritation from a baking sofa based one. If you are looking at mild vs sport, I was too! I decided to go with mild and it is still quite strong! I would say that mild would be preferable to most, even if you need to apply more than once on a super sweaty day. Even with the mild version people are always asking what perfume I'm wearing lol
Date published: 2022-05-07
Rated

3

out of

5
by
Kathleen
from
They changed the fragrance and it's not as nice. I actually used to get compliments on how I smelled when using the old one. Works alright to keep smell away but I reapply couple times a day during the hot weather. Alcohol stings if applied right after shaving. Wish they'd bring back the old scent. The smell isn't bad, just reminds me of suntan lotion.
Date published: 2018-08-04
Rated

1

out of

5
by
Alana
from
I use the sport version regularly and thought I'd try this as its "mild" and I find the sport one strong smelling... This one is worse smelling :( Reminds me of my grandma's terrible perfume!! I'm very scent sensitive and this is not mild smelling in the least... Will not buy again.
Date published: 2013-07-17
Rated

5

out of

5
by
Steven
from
I've been using Ombra Deodorant for several years and absolutely love it. I have a skin intolerance to most deodorants/antiperspirants, and it was always trial-and-error finding something that worked after the one I'd previously used was discontinued. Ombra's deodorant does not give me a rash or any irritation; it has a fresh fragrance that's not overpowering; and is priced reasonably (especially at Well.ca!).
Date published: 2011-02-10
Rated

5

out of

5
by
Dorothy R
from
I like this product a lot. I have started using it and like that it does not have aluminum in it. There has been research that has linked aluminum to dementia. It goes on wet as it is a roll-on and it started to dry soon after. It does not make my armpits smell like other deodorants after 24 hours use. There is a slight scent to the roll-on as it is mild so if you don't like heavily scented deodorants, this is one I would recommend. If you want one with aluminum, there are other brands out there that would be of interest to you.
Date published: 2013-11-01
Rated

1

out of

5
by
Dianne
from
Loved this product until the scent of the Mild version became much stronger--seems to have happened at the same time the company introduced new packaging. Am now looking for alternative that is scent-free.
Date published: 2016-03-12
Rated

5

out of

5
by
Tanna
from
Love this product! My kids are at the age where they are needing deodorant, but I didn't want them using anything with aluminum. I do make my own homemade deodorant, which works great, but they don't like the feel of the baking soda. I've used other all natural products for them, but they tend to feel wet and sticky all day. Ombra goes on wet, but dries quickly, with no sticky feel. The odor protection lasts all day (or longer) for us. Love it!
Date published: 2017-11-28