Oral-B SmartSeries 6000 Rechargeable Electric Toothbrush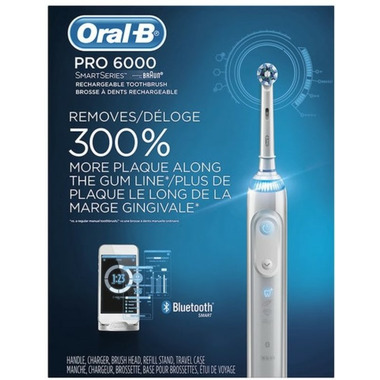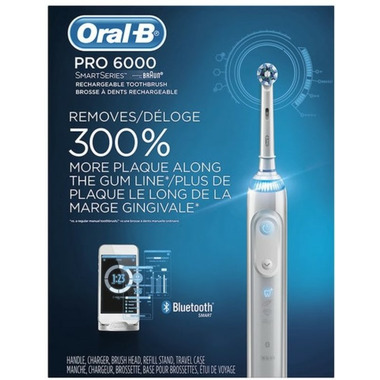 Oral-B SmartSeries 6000 Rechargeable Electric Toothbrush
The Oral-B SmartSeries 6000 Rechargeable Electric Toothbrush with Bluetooth connectivity removes up to 300% more plaque along the gum line*. Bluetooth communication allows the brush to connect with your smartphone to give you real-time feedback on your brushing habits. With 5 unique modes and a pressure sensor that lights up when you brush too hard, the Oral-B SmartSeries 6000 will transform the way you brush. You can even customize the pressure sensor's color! The professionally inspired design of the CrossAction brush head surrounds each tooth with bristles angled at 16 degrees, and the 3D cleaning action oscillates, rotates, and pulsates to break up plaque. The brush has a built-in timer to help you brush for the dentist-recommended 2 minutes. Best of all, it's brought to you by Oral-B – the #1 brand used by dentists worldwide.
*vs. a regular manual toothbrush
The Oral-B 6000 toothbrush features a Lithium Ion battery that's designed to charge with lightning-fast speed, all while delivering long-lasting, consistently powerful cleaning action between charges. This brush also features the professionally inspired CrossAction toothbrush head. The round head is specially designed for a tooth-by-tooth clean, and its criss-cross bristles are set at a 16-degree angle to reach deep between teeth to lift and power away up to 300% more plaque along the gumline for a superior clean vs. a regular manual toothbrush.
Toothbrush Modes and Features:
Daily Clean: Comprehensive everyday cleaning
Sensitive: Lower speed for a gentle clean
Whitening: Alternates speeds to polish away stains
Gum Care: Gently stimulates gums
Pro-Clean: Faster bristle movement for an intense clean feeling
Visible Pressure Sensor: Lights up and stops pulsations if you brush too hard
Bluetooth Technology: 2-way communication between brush and smartphone for real-time guidance