Orange Naturals Bites+Stings Cream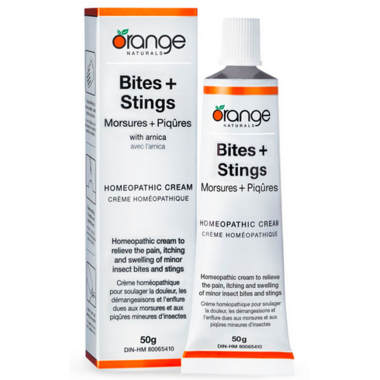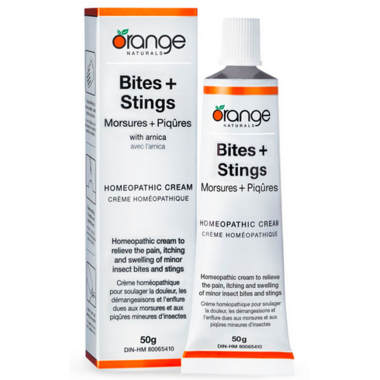 Orange Naturals Bites+Stings Cream
Orange Naturals Bites+Stings homeopathic cream relieves the pain, itching and swelling associated with minor insect bites and stings.
Orange Naturals Bites+Stings homeopathic topical cream will help you find quick relief from those inevitable run-ins with mother nature's tiny but mighty insects. Keep a tube in your picnic hamper, your backpack, the baby's diaper bag, the bow of your canoe or your jacket pocket.

Benefits:
Topical homeopathic cream that helps relieve minor skin irritations and discomfort due to insect bites or stings
Soothes itching, pain, swelling and redness
Natural antiseptic properties
Features:
All natural first aid cream with soothing medicinal ingredients
No artificial colours
Fragrance free cream
No parabens, petroleum, lanolin or propylene glycol
Safe and non-toxic
Gluten-free (safe for external use by those sensitive to absorption of wheat or gluten)
Recommended Use:
Topical homeopathic cream to relieve the pain, itching and swelling of insect bites and stings.
Directions:
Adults and children (0 years and up): apply generously to affected areas once daily or as needed. External use only.
Medicinal Ingredients:
Apis mellifica 1X, Apis mellifica 3X, Arnica montana 3X, Arnica montana 6X, Calendula officinalis MT,Ledum palustre 3X, Urtica urens 3X.
Non-Medicinal Ingredients:
Beeswax, shea butter, MCT oil, cetearyl alcohol, glycerin, tocopherol, sodium citrate, sodium lactate, carbomer, potassium hydroxide, purified water, lactose (trace amount only).

Caution:
Do not apply to open wounds or broken skin. Consult a healthcare practitioner prior to use if pregnant, breastfeeding or have a serious medical condition, and during use if symptoms persist, worsen or if new symptoms develop. Discontinue use if hypersensitivity (e.g. contact dermatitis) occurs. Do not use if seal is broken. Keep out of reach of children.