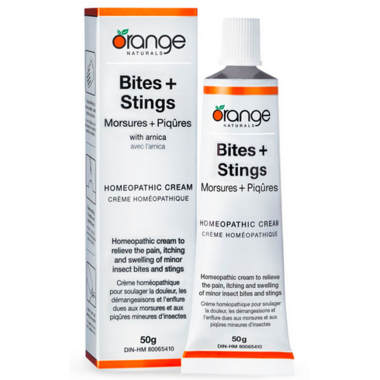 Description
Homeopathic cream to relieve the pain, itching and swelling of minor insect bites and stings.
Directions: Adults and children (0 years and up): apply generously to affected areas once daily or as needed. External use only. Store in a cool, dry place, away from light and electronics.

Warning: Consult a healthcare practitioner prior to use if pregnant, breastfeeding or have a serious medical condition, and during use if symptoms persist, worsen or if new symptoms develop. Do not use if seal is broken. Keep out of reach of children.
Highlights

Ingredients
Apis mellifica 1X, Apis mellifica 3X, Arnica montana 3X, Arnica montana 6X, Calendula officinalis MT, Ledum palustre 3X, Urtica urens 3X.Beeswax, shea butter, MCT oil, cetearyl alcohol, glycerin, tocopherol, sodium citrate, sodium lactate, carbomer, potassium hydroxide, purified water, lactose (trace amount).
Shipping & Returns