Orange Naturals Focus for Kids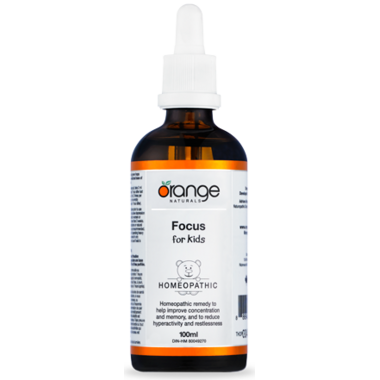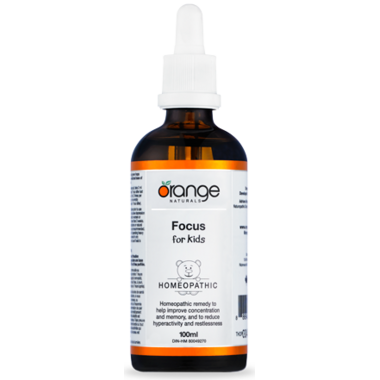 Orange Naturals Focus for Kids
Orange Naturals Focus for Kids is a combination homeopathic formula to help reduce hyperactivity, restlessness, impulsiveness and aggression in children. It is also a supportive remedy for concentration and memory.
Benefits
Helps to improve concentration and memory, and to reduce hyperactivity and restlessness

Improves concentration and attention span
Supports memory function
Reduces hyperactivity and restlessness
Calms, soothes and reduces mood swings
Reduces impulsiveness and aggression
Calms overactive mind
All natural. Free from chemicals and stimulants.
Works without stimulant side effects
Non drowsy
No artificial flavors
Great tasting – in a glycerin base kids will love
Gluten Free
Ingredients:
Each mL contains:
Avena sativa 3X,
Baryta carbonica 30CH,
Chamomilla 6CH,
Hyoscyamus niger 12CH,
Passiflora incarnata 1X,
Stramonium 6CH,
Tarentula hispana 6CH,
Zincum metallicum 6CH.
Directions:
Age 12 years and over: for general dosing, take 1 ml, 3 times per day under the tongue or in a little water. For acute symptoms, take 1 ml every 30-60 minutes (up to 12 times per day). When symptoms improve, resume general dosing. Shake well before each use.
Warnings:
Consult a healthcare practitioner prior to use if you are pregnant or breastfeeding, and during use if symptoms persist or worsen, or if new symptoms develop. Do not use if seal is broken. Keep out of reach of children.