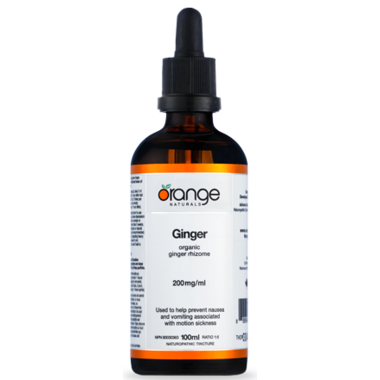 Description
Orange Naturals Ginger Tincture puts a stop to feeling queasy. Ginger relieves the nausea and vomiting associated with motion sickness or seasickness. It's even favoured among herbalists as a digestive aid, as it soothes digestive spasms and colicky tummies and helps to settle indigestion. As if this weren't enough, ginger has long been used to help relieve coughs and colds. This multipurpose root has been used in cooking and healing since the dawn of time. Don't be without it.

Recommended Use: Helps to prevent nausea and vomiting associated with motion sickness.

Directions: Ages 6 and over: take 2 mL, 3 times per day. For anti-nausea use, take 2 mL, 30 minutes before travel and every 4 hours as necessary.

Ingredients: Each mL contains: Ginger (Zingiber officinale, 1:5 rhizome extract) 200 mg.

Non-Medicinal Ingredients: 40% grain alcohol, purified water.

Highlights

Shipping & Returns