Orange Naturals Goldenseal Tincture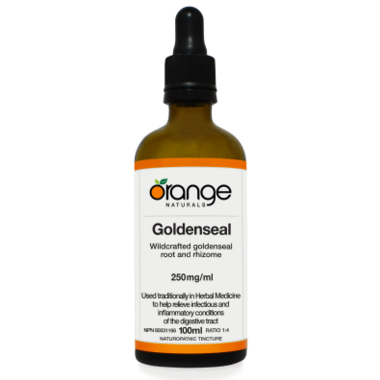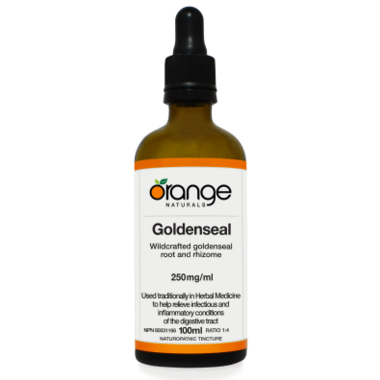 Orange Naturals Goldenseal Tincture
Goldenseal's bitter taste is your clue to its role in helping one's digestion. This herb has also been used traditionally for its 'natural antibiotic' ability to help stop infections and inflammation in the digestive tract such as gastritis. It has the ability to help heal inflammed mucous membranes and has a mild laxative effect when needed - a truly golden herb.
Recommended Use:
Helps to relieve infectious and inflammatory conditions of the GI tract.


Directions:
Adults: take 1 mL, 3 times per day. May take up to 1 week to produce beneficial effects.
Ingredients: Each mL contains: Goldenseal (Hydrastis canadensis, 1:4 root and rhizome extract) 250mg.

Non-Medicinal Ingredients: 40% grain alcohol; purified water; organically grown licorice root (natural flavour).
Cautions and Warnings: Consult a healthcare practitioner prior to use if you have a kidney or blood pressure disorder.
Contraindications: Do not use if you are pregnant or breastfeeding.
Potential or Known Drug Interactions: Consumption with alcohol or other medications or natural health products with sedative properties is not recommended.

Julie:
more than a year ago
I've been trying this for long term stomach trouble - pain, cramping, burning, etc (the works haha) - and it seems to be helping! The package says it'll take about a week to notice anything and that was pretty spot on, but I did feel a little better day by day even before the one week mark. After everything else I've tried (from manuka to ginger to greek pine trees and on and on...), it's a relief to finally get some... relief. :) I hope it keeps working.
Page
1