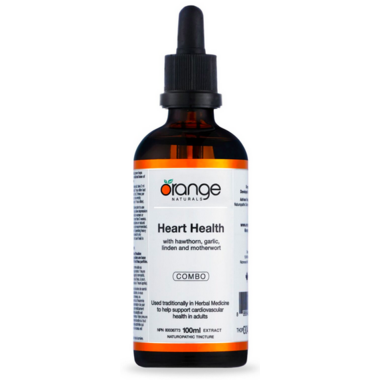 Description
Nuture your heart with Heart Health tincture. Heart Health tincture combines hearty herbs like Hawthorn, Garlic, Linden and Motherwort. Hawthorn contains special compounds that help protect not only your heart but your entire circulatory system. It has had a reputation for centuries as a heart tonic and has been shown in studies to improve circulation to the heart and support its pumping rhythm. The small but mighty garlic bulb contains a constituent known as allicin which plays a big role in reducing the risk of heart disease by relaxing blood vessels and keeping blood flowing easily. The relaxing effect of linden is particularly felt on the cardiovascular system, especially when there is arteriosclerosis or hypertension (high blood pressure) present. Motherwort is commonly combined with Hawthorn to calm a racing heart (tachycardia) caused by nervous tension. Your heart will fall in love with this phenomenal herbal combination.

Recommended Use:
Helps to support cardiovascular health in adults.

Directions:
Adults: take 2 mL, 3 times per day. Use for a minimum of 2 months to see beneficial effects.
Ingredients:
Each mL contains:
Hawthorn (Crataegus laevigata, 1:4 fruit extract) 156.25mg,
Garlic (Allium sativum, 1:4 bulb extract) 31.25mg,
Linden (Tilia cordata, 1:5 flower extract) 25mg,
Motherwort (Leonurus cardiaca, 1:5 herb extract) 25mg.

Non-Medicinal Ingredients:
40% grain alcohol; purified water.
Cautions and Warnings:
Consult a healthcare practitioner prior to use if you have diabetes. Hypersensitivity has been known to occur - discontinue use if so.
Contraindications:
Do not use if you are pregnant or breastfeeding.

Potential or Known Drug Interactions:
Consult a healthcare practitioner prior to use if you are taking blood thinners, protease inhibitors, blood pressure medications, or cardiac glycosides such as digitalis/digoxin.
Highlights

Shipping & Returns