Orange Naturals Lymph Relief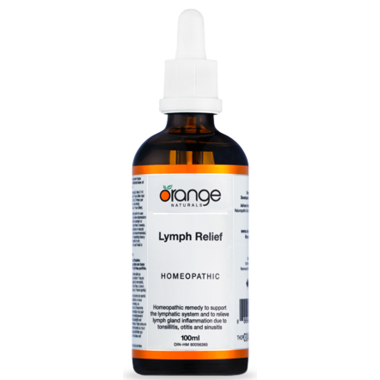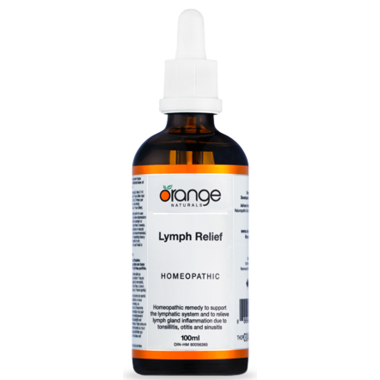 Orange Naturals Lymph Relief
Orange Naturals Lymph Relief is for the lymphatic system. Our lymphatic system plays a huge role in our health by helping to ward off disease and help us heal from injury. But it is often forgotten and not given much attention. We only notice it when our lymph nodes swell when we're ill. The lymph quietly and humbly works tirelessly by draining away toxins. Ensure your lymph system – and ultimately your immune system – stays healthy with Orange Naturals Lymph Relief. Lymph Relief is a homeopathic formula designed to support the lymphatic system for overall health and relieve symptoms of chronic swelling, pain or inflammation of the lymph glands related to conditions such as tonsillitis, otitis, sinusitis, mastitis, and prostatitis.

Benefits
Supports lymphatic system
Relief of inflaimmation, pain, and swelling in lymph glands
Supportive formula for 'itis' glandular conditions such as tonsillitis, otitis, sinusitis, mastitis or prostatitis

Features
Liquid format is simple to administer and absorbs quickly
No artificial flavours
Medicinal grade alcohol base
Directions:
Adult: for general dosing, take 1ml, 3 times per day under the tongue or in a little water. For acute symptoms, take 1 ml every 30-60 minutes (up to 12 times per day). When symptoms improve, resume general dosing. Shake well before each use.
Ingredients:
Baryta carbonica 6CH, Calcarea carbonica 6CH, Calcarea phosphorica 3CH, Mercurius solubilis 8X, Phytolacca decandra 2X, Phytolacca decandra 6X, Scrophularia nodosa 1X, Tuberculinum bovinum 12CH
.
Caution:
Consult a healthcare practitioner prior to use if you are pregnant or breastfeeding, and during use if symptoms persist or worsen, or if new symptoms develop. Consult a healthcare practitioner if you have a serious medical condition. Do not use if seal is broken. Keep out of reach of children.

Gluten free, Soy Free, Nut Free