Orange Naturals ND Shake Kids Vanilla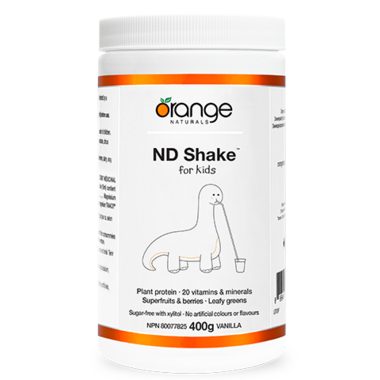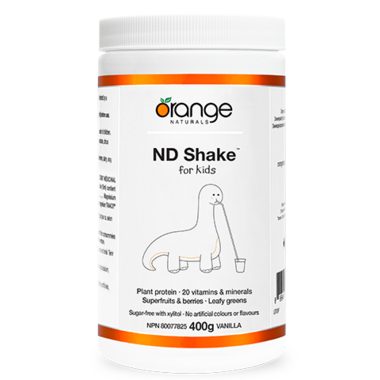 Orange Naturals ND Shake Kids Vanilla
ND Shake Kids is a protein formula specifically to support a child's developing needs.
It combines just the right amount of plant protein, greens and superfruits for kids, with a delicious taste that will make them happy to drink their veggies! With a daily dose of ND Shake, kids get a built-in multivitamin that is professionally formulated for them. It contains superior nutrient forms that are highly absorbable to support their developing bodies and helps support the development of bones and teeth.
Benefits:
Customized multivitamin/mineral for the specific growing needs of children ages 5-12
3 grams of easy-to-digest plant protein (yellow pea and brown rice)
0.5 grams of fibre
Chock full of greens and superfruits such as with broccoli, parsley, kale and antioxidant heavyweights like acai, goji and blueberries
Easy and convenient way to ensure your child is getting the proper nutrients for proper physical and mental development
Ideal for everyone – from vegans to even the most sensitive individuals (dairy, soy, gluten, eggs and nuts free)
Great tasting and smooth texture
Contains nothing artificial
Directions:
Add the following scoop sizes to your child's favourite beverage and shake well.
Ages 5-8: 1 rounded scoop (10g) to 100mL
Ages 9-12: 2 rounded scoops (20g) to 200mL
Ages 13-18: 3 rounded scoops (30g) to 200mL
Add more liquid to adjust thickness to your child's taste.
For a delicious smoothie, blend with a 1/2 cup of fresh or frozen fruit. You can give your kids a shake everyday to make sure they're getting the nutrition they need!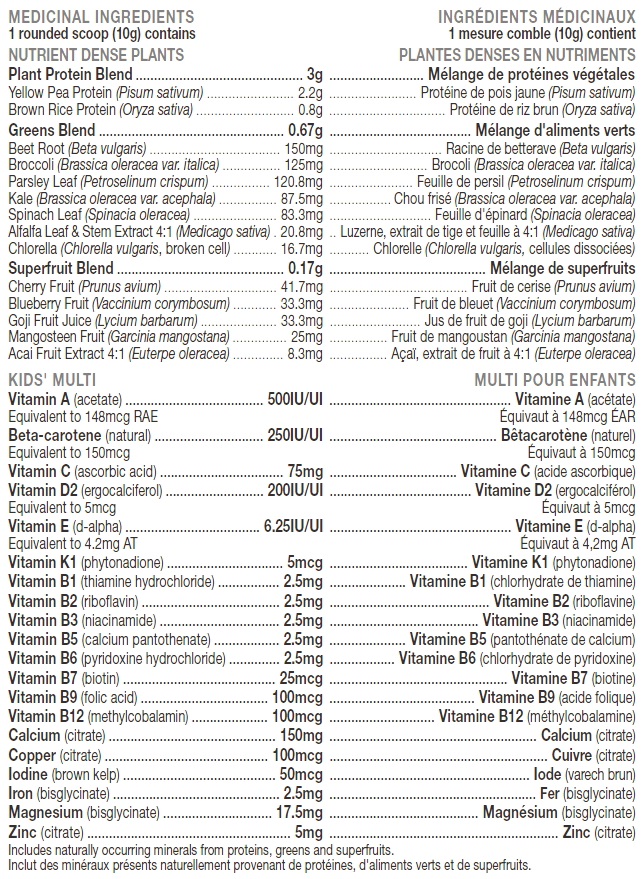 Non-Medicinal Ingredients:
Guar gum, natural green tea flavour, natural french vanilla flavour, natural vanilla flavour, xylitol, organic stevia, organic cane sugar. Manufactured in a facility that processes dairy, gluten, soy, eggs, and/or nuts.
Cautions and Warnings:
Consult a healthcare practitioner prior to use if your child is following a low protein diet. Allergy to acai and plants of the Arecaceae family has been known to occur. Discontinue use if your child experiences any allergic reaction.

Potential or Known Drug Interactions:
Consult a healthcare practitioner prior to use if your child is taking blood thinners.