Orange Naturals Sleep Tight for Kids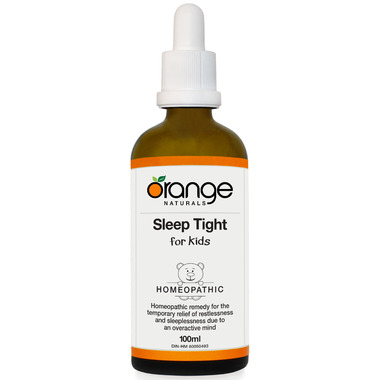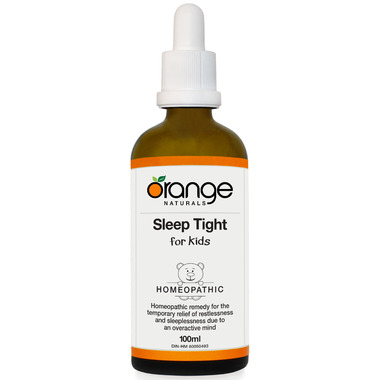 Orange Naturals Sleep Tight for Kids
Children will have trouble sleeping for a variety of reasons. Sometimes they're physically restless, sometimes they have an overactive mind, sometimes they have worries, sometimes they startle out of sleep from a frightening or confusing dream and sometimes they're just overly excited (and overly tired) as they climb into bed and can't settle into sleep.
Orange Naturals Sleep Tight for Kids was developed to address all these sleeping needs and to ultimately help you to get a good night's sleep as well!
Benefits
Helps promotes healthy sleep and wake cycles in children
Calming and relaxing formula
Relieves sleeplessness and an overactive mind
No artificial flavours
All natural active ingredients
Non drowsy and no dependency
Safe, gentle and non-toxic
Great tasting- in a glycerin base kids will love
Gluten Free

Ingredients:
Each mL contains:
Argentum nitricum 6X,
Avena sativa MT,
Ignatia amara 2X,
Passiflora incarnata MT,
Stramonium 6CH,
Tarentula hispana 6CH,
Valeriana officinalis 3X,
Zincum valerianicum 6X
Directions:
For general dosing, ages 0-11 years: take 0.5ml, 3 times per day; age 12 years and up: take 1ml, 3 times per day. For acute symptoms, ages 0-11 years: take 0.5ml every 30-60 minutes (up to 12 times per day); age 12 years and up: take 1ml every 30-60 minutes (up to 12 times per day). When symptoms improve, resume general dosing.Take under the tongue or in a little water. Shake well before each use. Refrigerate after opening.

Warnings:
Consult a healthcare practitioner prior to use if you are pregnant or breastfeeding, and during use if symptoms persist or worsen, or if new symptoms develop. Do not use if seal is broken. Keep out of reach of children.



Val:
about a year ago
Well, I'm not sure that I can say with 100% certainty that this is THE reason my 18 month old son is sleeping through the night, but I can say without any doubt that he has been sleeping through the night much more consistently since he has been taking this. Could it be some other factor? Possibly. But this formerly sleep-deprived mama is going to stick with "Sleep Tight" until it becomes clear that it is not helping! Added bonus: My son is happy to take this straight from the dropper (included) because he loves the taste of it. No need to mix it into a cup of water.
Page
1