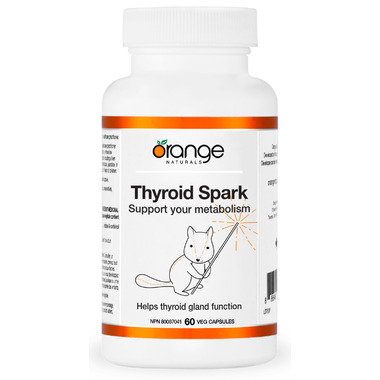 Description
Orange Naturals Thyroid Spark formula is a synergistic blend of nutrients and herbs that are designed to support the healthy functioning of the thyroid gland.
Recommended Use:
Helps in the function of the thyroid gland and to prevent iodine deficiency.

Directions:
Adults 18 and over - take two (2) capsules daily or as directed by a healthcare practitioner.
Ingredients:
L-Tyrosine - 450mg
Ashwagandha (withania somnifera) root, 1.5% withanolides - 100mg
Copper (copper citrate) - 1.5mg
Manganese (manganese citrate) - 500mcg
Iodine (laminararia digitata/ascophyllum nodosum) - 200mcg
Selenium (selenium yeast) - 200mcg
Zinc (zinc citrate) - 7.5mg
Highlights

Shipping & Returns