Organic Gemini Sliced Raw TigerNuts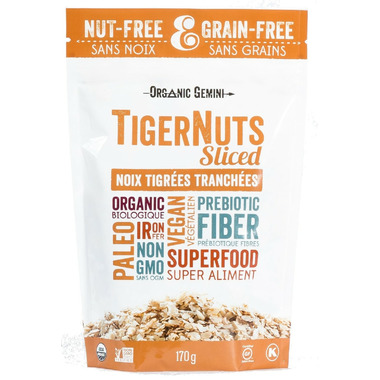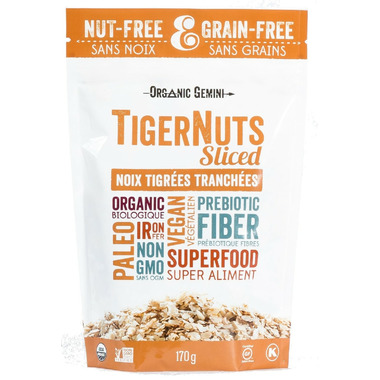 Organic Gemini Sliced Raw TigerNuts
Raw, Organic, Sun-Dried TigerNuts have a sweet and slightly nutty flavour. They are known throughout the world by different names, including nookon or chufa. A TigerNut by any name, however, is a little tuber with a great deal of superfood qualities.
TigerNuts are not nuts, they are small root vegetables which comprised 80% of our Paleo ancestors' diet around 2 million years ago. This ancient superfood originates from Africa. It is currently cultivated in West Africa & Spain. TigerNuts are rich in prebiotic fiber. Prebiotics act as food for your body's natural organisms. They help your gut's natural probiotics thrive. A single ounce of TigerNuts has 40% of our daily recommended fiber!
All of the health benefits and flavour of TigerNuts, but in thin wafers that are easy to chew. They taste great on top of salads or yogurt, as an addition to breakfast cereals, or in baked goods!

Benefits:
USDA Organic
Project NON-GMO Verified
Certified Paleo
Certified Kosher
Gluten-Free
Peanut Free
Vegan friendly
Prebiotic fibre
Superfood
Ingredients: organic tigernuts