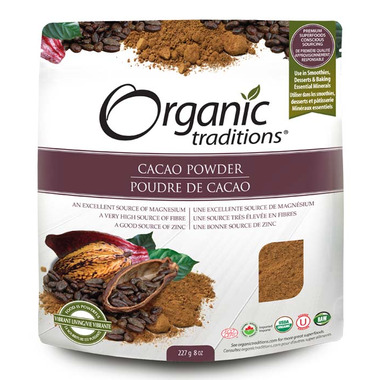 Description
Cacao was once so revered by the Mayans and the Aztecs that it was used as currency. Flavored with chilies, vanilla, cinnamon, nutmeg and other spices, the beans were traditionally ground into a paste to make delicious chocolate dishes and ceremonial drinks. Cacao powder is a source of Magnesium, Iron and Zinc and Fiber. Cacao also contains essential minerals and a host of antioxidants.
While most Cacao nibs are roasted, Organic Traditions Cacao nibs are raw with no added flavors or additives. The nibs are then pressed into a paste and the Cacao's fat content is removed, yielding delicious Cacao powder.
Features:
Certified Organic, Gluten-Free, Kosher, Vegan, Non-GMO, Raw
An excellent source of Magnesium
A high source of Fibre
A source of Iron
No added flavours or sweeteners
Directions:
20g per serving
Ingredients:
Certified Organic Cacao Powder
Caution:
Produced in a facility that processes tree nuts.
May contain tree nuts.
Highlights

Shipping & Returns