Organic Traditions Probiotic Smoothie Mix Chocolate Coconut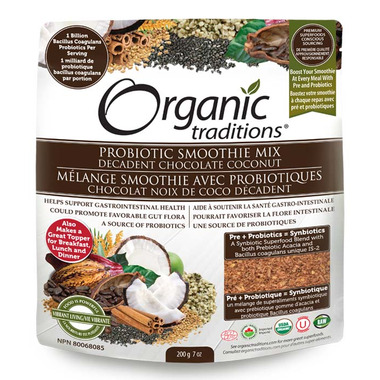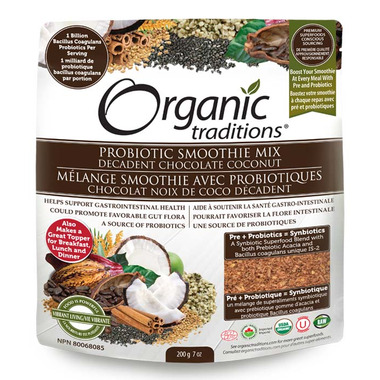 Organic Traditions Probiotic Smoothie Mix Chocolate Coconut
Organic Traditions® Probiotic Superfood Smoothie Mix is a powerful combination of Certified Organic cold milled chia and flax seeds, hemp hearts, cacao powder, shredded coconut, acacia, cinnamon powder extract as well as beneficial probiotics. Incredible gluten free super seeds, chia, flax and hemp provide a source of fibre, vitamins, minerals, antioxidants and beneficial plant-based Omega-3. These mild, nutty seeds are a fast and simple way to enhance your daily diet with an extra boost of fibre and dense superfood nutrition. Enjoy balanced nutrition along with 1 billion beneficial probiotics per 1 tbsp. serving for optimal digestive health.
Instructions:
10g per day. If you are on antibiotics take 2-3 hours before or after
Ingredients:
Medicinal Ingredient: Bacillus coagulans
(Source Material: Whole Cell IS2)
Non-medicinal Ingredients: Organic
Cold Milled Chia Seeds, Organic Shredded
Coconut, Organic Cold Milled Flax Seeds,
Organic Acacia Gum, Organic Coconut Palm
Sugar, Organic Hemp Seeds, Monk Fruit
Extract, Erythritol, Organic Cacao Powder,
Organic Cinnamon Powder Extract, Sea Salt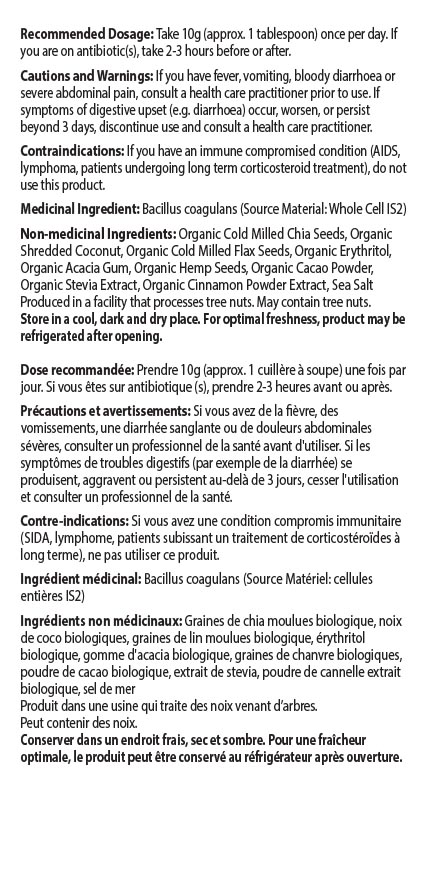 Please be advised that Well.ca follows manufacturer guidelines for storing & shipping probiotics.