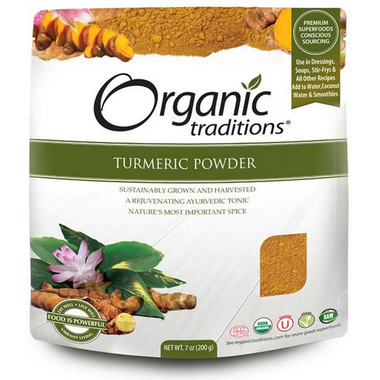 Description
Turmeric is a rhizome that is part of the ginger family. Its Chinese name literally means "yellow ginger." As one of nature's most revered botanticals, it has been used for centuries as a food preservative, a coloring agent, a culinary flavor and as an important anti-inflammatory herbal remedy in Ayurvedic Medicine. It has also been used as a natural dye and as a popular cosmetic in India and Asia for healthy, glowing skin.
Key Features and Benefits:
Certified Organic, Kosher, Raw
Gentle, Rejuvenating and Strengthening Ayurvedic Tonic
Sustainably grown and harvested
Internal Use: Take 1 teaspoon of Organic Traditions Turmeric powder once daily as a general doshic balancing tonic. Use Turmeric in all culinary preparations. Add Turmeric powder to recipes such as salad dressings, curries, stir-fry, soups, smoothies and more. Add ½ -1 teaspoon to smoothies or in your water with a squeeze of lemon for a refreshing, simple turmeric drink.
Ingredients: Organic Turmeric Powder (Curcuma longa)

Produced in a facility that processes tree nuts. May contain tree nuts.
Highlights

Shipping & Returns