Organika Enhanced Collagen Protein Powder Sticks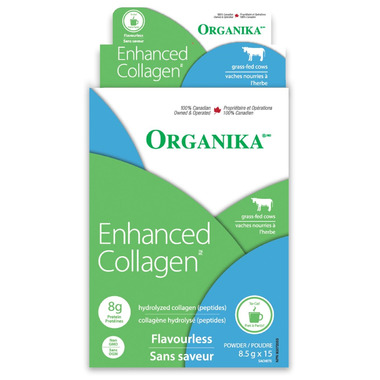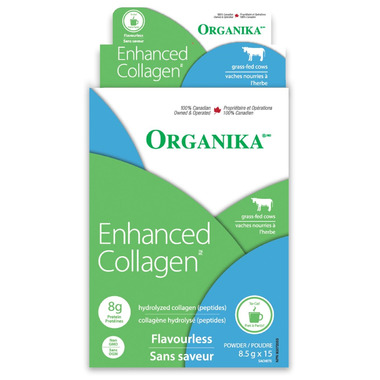 Organika Enhanced Collagen Protein Powder Sticks
Collagen is important for the health of your skin, hair and nails. It's also essential for maintaining healthy joints. Collagen production decreases with age, so adding a naturally sourced collagen supplement can help counter the negative impact.

Enhanced Bovine Collagen is hydrolized for easy absorption, and sourced from grass fed cows.

Restore and rebuild collagen with Organika®'s Enhanced Collagen, flavourless hydrolyzed collagen (peptides). Peptides are short chain amino acids naturally derived from collagen protein. These natural peptides are highly bio-available, digestible and soluble. Sourced from grass-fed cows, Organika®'s Enhanced Collagen is rBGH & BSE-free (no antibiotics or hormones), with no artificial sweeteners or GMO ingredients. Amino acids glycine, lysine & proline revitalize firm and smooth skin.

Directions: Mix 1 stick (8.5g) in half a cup or more of cold water, juice or your favorite beverage.

MEDICINAL INGREDIENT – EACH STICK CONTAINS: Hydrolyzed Collagen (Peptides) (Bovine Skin) 8.5 g
Providing the following Typical Amino Acid Profile:
Alanine 8.5% (722 mg)
Arginine 8.5% (722 mg)
Aspartic Acid 5.75% (489 mg)
Glutamic Acid 10.8% (918 mg)
Glycine 24.25% (2,061 mg)
Histidine 0.75% (64 mg)
Hydroxylysine 1.0% (85 mg)
Hydroxyproline 13.25% (1,126 mg)
Isoleucine 1.65% (140 mg)
Leucine 3.25% (276 mg)
Lysine 4.05% (344 mg)
Methionine 0.8% (68 mg)
Phenylalanine 2.35% (200 mg)
Proline 14.6% (1,241 mg)
Serine 3.7% (315 mg)
Threonine 2.2% (187 mg)
Valine 2.8% (238 mg)

NON-MEDICINAL INGREDIENTS: None.