Organika Enhanced Collagen Protein Powder Relax
with Magnesium & L-Theanine
250g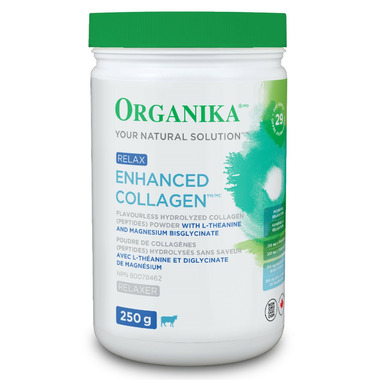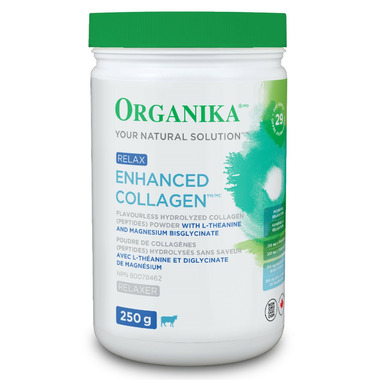 Organika Enhanced Collagen Protein Powder Relax
with Magnesium & L-Theanine
250g
Restore and rebuild with Organika's 100% pure, flavourless hydrolyzed collagen. Enhanced Collagen supports skin, leaky gut and improves sleep. Amino acid Glycine is known for improving sleep and controlling cholesterol levels. L-theanine helps relieve stress by inducing a relaxing effect without drowsiness, and may also possess immunologic attributes, whereas Magnesium Bisglycinate enhances sleep efficiency and relaxation of the nerves and muscles. It's also flavourless and can be used in hot or cold liquids!
Features
:
Sourced from grass fed, pasture raised cows
Promotes relaxation and sleep ·
Joint and Bone Health
Skin care
Weight management
Help treat leaky gut
Improves sport recovery
Recommended Dosage
: Mix 1 tablespoon (8.5g) in half a cup or more of cold water, juice or your favorite beverage.
Ingredients
: Hydrolyzed Collagen (Bovine Skin) 8 g, Magnesium Bisglycinate 350 mg, L-Theanine 250 mg.
Natural, gluten free, sugar free, peanut free, tree nut free, Canadian, Non-GMO, dairy free, paleo