Organika Gelatinized Maca + Cacao Powder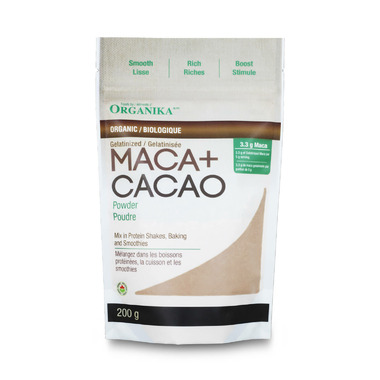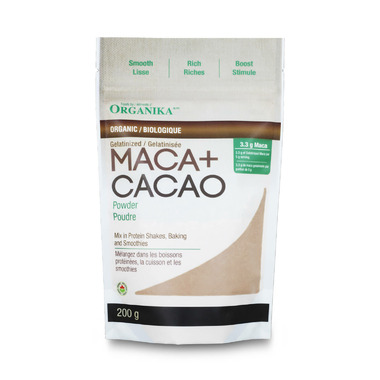 Organika Gelatinized Maca + Cacao Powder
Also known as Peruvian Ginseng, Maca (Lepidium meyenii) is grown in the high plateaus of the Andes mountains in Peru. The roots are carefully selected then washed before they are cut, cooked, dried and made ready for milling.
Maca is beneficial to men and women of any age, but especially those over the ages of 30 when hormone levels decline.
In men, maca is used to promote healthy testosterone levels, which helps improve strength, vitality, hair health, higher bone mass density and sexual drive.
In women, maca supplementation has been studied to help normalize the symptoms of premenstrual/menstrual symptoms as well as the symptoms of menopause including hot flashes, night sweats, cramps, fatigue and lethargy.
Organika® Organic Gelatinized Maca Powder undergoes a specialized procedure, involving additional slow cooking and an extrusion process which splits large starch chains. This process creates a powder that blends easily and instantly into your favourite food.
Features:
Packed with antioxidants and energy.
Maca is known as a powerful Adaptogen and also great for hormonal imbalance
Cacao has more antioxidants than Red Wine, Green Tea and Blueberries combined.
Cacao is also naturally packed with Magnesium and other minerals
Great to use in milkshake, smoothies and desserts
Directions: Take 1 heaping teaspoon a day, added to water, coffee, or your favourite beverage.
Ingredients: Organic Gelatinized Maca Powder, Organic Cacao Powder

ORGANIC, GLUTEN FREE, VEGAN, VEGETARIAN, SOY FREE, PEANUT AND NUT FREE