Organika Grape Seed Extract Liquid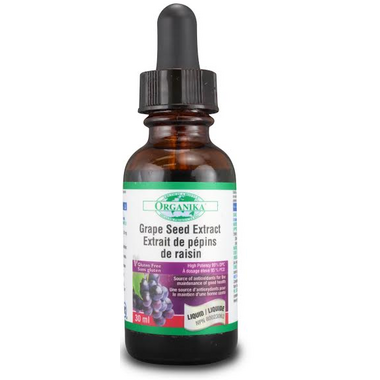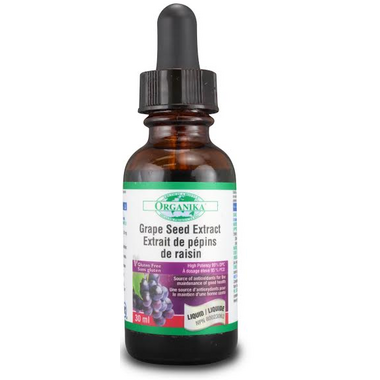 Organika Grape Seed Extract Liquid
Grape Seed Extract provides a source of antioxidants for the maintenance of good health. Potent source of antioxidants that reduces damage to blood vessels, skin, heart cells, and more.
High potency version of Grape Seed Extract at 95% for maximum effect.
Formulated with citrus bioflavonoids that assist the absorption of Vitamin C within the body.
Features:
Highly concentrated source of Vitamin E, flavonoids, linoleic acid and oligomeric proanthocyanidin (OPC's)
OPC's help to support reductions in edema, CVI and other forms of inflammation throughout the body
Source of antioxidants that helps support overall health and various organs throughout the body
Energy support and healthy blood flow
Natural
Non-GMO
Faire Trade
Canadian Brand

Contains No:
Soy
Gluten
Dairy
Sugar
Peanuts
Tree Nuts
Animal product
Recommended Dose:
Take 0.5 ml (9 drops) 3 to 4 times per day with meals. Shake well before use.

MEDICINAL INGREDIENT – EACH 1 ml (APPROXIMATELY 18 DROPS) CONTAINS:
Grape Seed Extract (Vitis vinifera L.) ……………. 100 mg
(Standardized to contain 95% Oligomeric Proanthocyanidins (OPC))
NON-MEDICINAL INGREDIENTS
: Ethanol, Purified Water.
CONTAINS NO: Dairy, egg, artificial preservatives, colours, artificial sweeteners, yeast, wheat, soya, or gluten.
Caution:
Consult a health care practitioner prior to use if you are pregnant or breastfeeding.