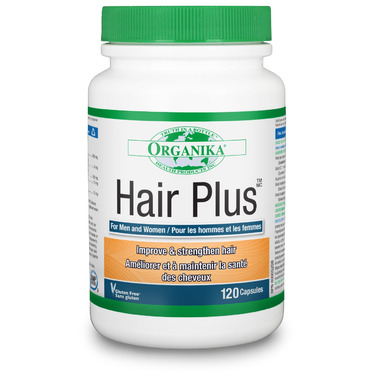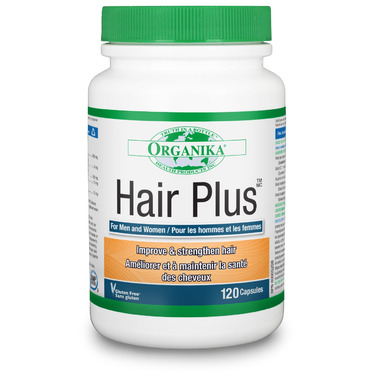 Hair Plus combines five potent ingredients to improve the strength, sheen and health of your hair, including:
Gingko Biloba, Horsetail Extract, Grape Seed Extract, Fo-Ti Powder, Barley Juice Extract.
Features and Benefits:
Helps to improve and maintain healthy hair growth and maintenance
Helps to improve micro-nutrient delivery to hair for better strength
Natural
Non-GMO
Faire Trade
Canadian Brand
Recommended Dose:
Take 1 to 2 capsules per day with a meal and a glass of water
MEDICINAL INGREDIENTS – EACH CAPSULE CONTAINS:
Horsetail (Equisetum arvense) (Stem)…………………………………….250 mg (Standardized to contain 7% Silica as SiO2) Barley Juice 20:1 Extract (Hordeum vulgare) (Leaf)………………………….5 mg (Equivalent to 100 mg of dried Barley Juice Powder) Fo-Ti Powder (Fallopia multiflora) (Root) ……………………………….100 mg Ginkgo Biloba Extract (Ginkgo biloba L.) (Leaf)……………………………15 mg (Standardized to contain 24% Flavonoid Glycosides and 6% Terpene Lactones) Grape Seed Extract (Vitis vinifera L.) ……………………………..15 mg (Standardized to contain 95% Oligomeric Proanthocyanidins (OPC))
NON-MEDICINAL INGREDIENTS:
Brown Rice Flour, Magnesium Stearate, Maltodextrin, Gelatin (Capsule).
CONTAINS NO:
Dairy, egg, artificial preservatives, colours, artificial sweeteners, yeast, wheat, or soya.
Caution:
Consult a health care practitioner if symptoms persist or worsen.
Consult a health care practitioner prior to use if you are taking medications for diabetes, high blood pressure, or seizures, are taking cardiac medications such as cardiac glycosides or antiarrhythmic agents; or have a liver disorder.
Do not use if you are pregnant or breastfeeding; have oedema due to kidney or cardiovascular disease; or are taking health products that affect blood coagulation (e.g. blood thinners, clotting factor replacements, acetylsalicylic acid, ibuprofen, fish oils, vitamin E) as this may increase the risk of spontaneous bleeding.
Discontinue use and consult a health care practitioner if yellowing of the skin or whites of the eyes, dark urine, nausea, vomiting, unusual tiredness, weakness, stomach or abdominal pain, and/or loss of appetite occurs, as these may be symptoms of liver disease.
For adult use only.