Organika Methyl-Sulfonyl-Methane Powder (MSM)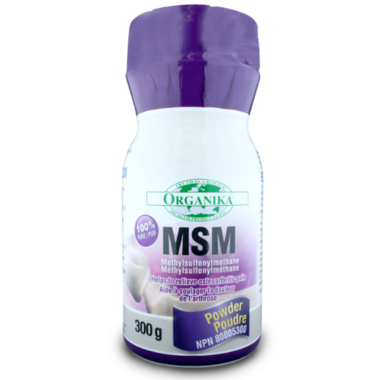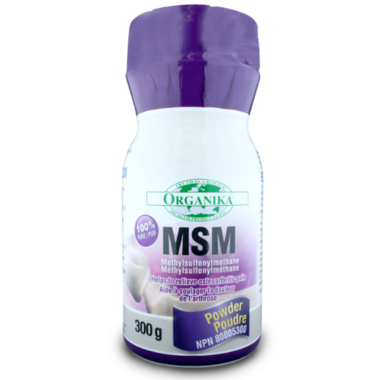 Organika Methyl-Sulfonyl-Methane Powder (MSM)
Organika Methyl-Sulfonyl-Methane helps to reduce joint pain and inflammation associated with arthritic conditions. It compliments other joint care products like GLS and Liga-Joint for maximum care.
Features:
Helps to relieve the pain associated with osteoarthritis of the knee
Helps to relieve osteoarthritic pain
Directions:
Take 1/2 teaspoon (1750 mg) 3 times per day with meals and a glass of water. Avoid taking at bedtime.

Medicinal Ingredients:
Each 1/2 Teasppon Contains:
Methylsulfonylmethane (MSM)…………………………………1750 mg
Caution:
Consult a health care practitioner prior to use if you are pregnant or breastfeeding. Consult a health care practitioner if symptoms worsen. Mild gastrointestinal bloating, constipation or indigestion may occur.