Organika
Organika Quercetin with Bromelain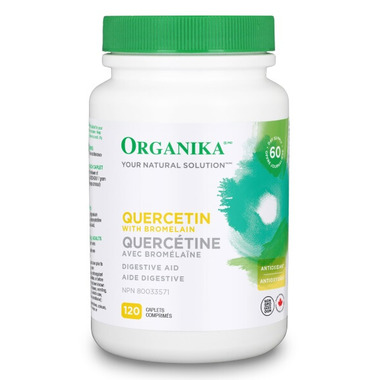 Organika
Organika Quercetin with Bromelain
Description
Organika Quercetin with Bromelain is a digestive enzyme that improves nutrient absorption. It acts as a capillary and blood vessel protectant for improved circulation and is a potent source of antioxidants for reduced oxidative damage to skin, tissues, and organs.

Features:
Digestive enzyme
An antioxidant for the maintenance of good health
Directions:
Take 1 to 2 caplets per day with meals and a glass of water.
Medicinal Ingredients:
Each Capsule Contains:
Quercetin (derived from the flower of Sophora japonica) …. 400 mg
Bromelain, 2000 GDU1 / gram … 100 mg (3 000 000 FCC PU2)
Non-Medicinal Ingredients: Calcium Phosphate Dibasic Dihydrate, Magnesium Stearate, Microcrystalline Cellulose, Croscarmellose Sodium, Stearic Acid, Maltodextrin. (derived from the stem of pineapple, Ananas comosus) 1 Gelatin Digesting Unit 2 Food Chemicals Codex Papain Unit

Caution:
Consult a health care practitioner prior to use if you are pregnant or breastfeeding; have gastrointestinal lesions / ulcers, are taking anticoagulant agents, anti-inflammatory agents or antibiotics; or before having surgery. Hypersensitivity / allergy has been known to occur, in which case, discontinue use. Nausea, vomiting, and diarrhea have been known to occur, in which case, discontinue use (and consult a health care practitioner).
Highlights

Shipping & Returns