Otrivin
Otrivin Cold & Allergy Decongestant Nasal Spray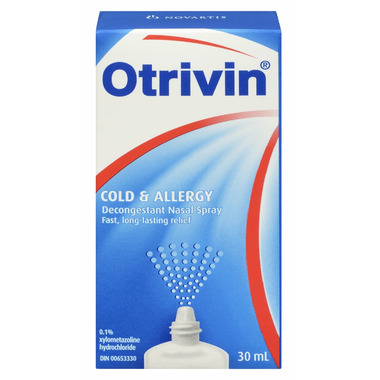 Otrivin
Otrivin Cold & Allergy Decongestant Nasal Spray
Description
If you're suffering from nasal congestion or a stuffy nose due to colds, sinusitis and allergies, then you need Otrivin Cold & Allergy Decongestant Nasal Spray. It provides fast, long-lasting relief of your cold and allergy symptoms.

Directions: Adults: With head tilted slightly forward, spray 1 or 2 times into each nostril. Breathe deeply. May be used every 8-10 hours.

Caution: Use only as directed. Prolonged or excessive use may cause increase in nasal congestion. If symptoms persist for more than 3 days, consult a physician. The use of this container by more than one person may spread infection.
Should you require consultation with a pharmacist, you may contact our Well.ca Pharmacist. Please read the label, warnings and inserts provided by the manufacturer and consult your healthcare professional when purchasing medications or natural health products to be sure the product is right for you.
Ingredients
Medicinal Ingredient: 0.1% xylometazoline hydrochloride. Non-Medicinal Ingredients: Benzalkonium chloride, disodium edetate, sodium chloride, sodium phosphate, water.
Shipping & Returns
Unfortunately, due to the nature of this item, we cannot accept any returns.
We are only able to ship this item to Canadian customers.
This item cannot be shipped to Quebec due to provincial pharmacy regulations.
Click here for more information