Oxy
OXY Deep Pore Acne Vanishing Treatment with Benzoyl Peroxide
Oil Absorbing Formula 28 g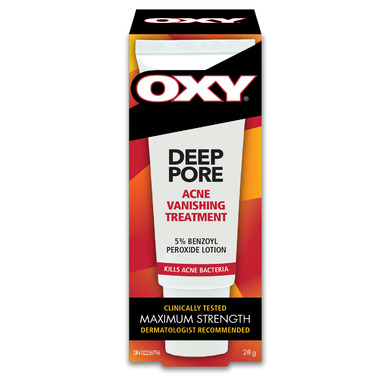 Oxy
OXY Deep Pore Acne Vanishing Treatment with Benzoyl Peroxide
Oil Absorbing Formula
28 g
OXY Deep Pore Acne Vanishing Treatment with Benzoyl Peroxide
is rated out of
5
by
8
.
---
Description
OXY Deep Pore Acne Vanishing Treatment Lotion is clinically proven to kill acne bacteria in 24 hours and reduce redness. This Vanishing Treatment contains Microsphere Technology which absorbs oil and blends readily and Portulaca Extract to soothe and calm the skin. Suitable for all skin types.
Directions: Cleanse skin thoroughly before applying the product.


Caution: For external use only. This product may cause irritation, burning, itching, swelling and blistering of skin. If any of the above symptoms occur, discontinue use. Do not use on broken skin, or large areas of skin. Ask a doctor or pharmacist before use if you are using other topical acne medications at the time because this may increase the development of dryness or peeling of the skin. When using this product avoid contact with eyes. If contact occurs, rinse thoroughly with water.
Should you require consultation with a pharmacist, you may contact our Well.ca Pharmacist. Please read the label, warnings and inserts provided by the manufacturer and consult your healthcare professional when purchasing medications or natural health products to be sure the product is right for you.
Features
Deep Pore Treatment is best for those with frequent, reoccurring breakouts, visible pore and blackheads. Use OXY Vanishing Treatment for the treatment of breakouts with excessive redness. Containing Benzoyl Peroxide, a Dermatologist recommended ingredient for treating acne, clinically proven to kill acne bacteria for clearer skin.
Ingredients
Active Ingredient: 5% Benzoyl Peroxide Inactive Ingredient: Anhydrous Citric Acid, Butylene Glycol, Carbomer Homopolymer, Diazolidinyl Urea, Dimethicone, Dimethyl Isosorbide, Edetate Disodium, Glycerin, Lauryl Methacrylate/Glycol Dimethacrylate Crosspolymer, PEG/PPG-4/12 Dimethicone, Fragrance, lodopropynyl Butylcarbamate, Portulaca Oleracea Extract, Propylene Glycol, Purified Water, Silica, Sodium Citrate, Sodium Hydroxide, Xanthan Gum
Shipping & Returns
Rated

5

out of

5
by
Jen
from
this stuff is strong - similar to Rx-strength and Proactiv products, without being expensive. i chose it for that reason. i get mild acne in spots or small patches, and this works really well for me in little dabs; i can see it being harsh if needed on larger areas, because it does dry your skin out. one tube of this can last me over a year. i love it. the tinted version - in the blue tube - is great for daywear on the face. yes, it will bleach your sheets and clothes - so dress accordingly and make your bed and pillowcases up with crisp whites!
Date published: 2012-05-01
Rated

1

out of

5
by
Doug
from
I'm really not sure why the ratings on this product is so high, I read the reviews and decided to try it but I did not see any difference in my pores, infact it caused more acne (whiteheads) if anything, I continued for about a month to see if my skin would adjust but I started to develop last cysts on my nose and that was it , proceed with caution
Date published: 2017-05-01
Rated

4

out of

5
by
Sean
from
Pretty decent BP, although it doesn't absorb into your skin too well (leaves white streaks on your face if you don't rub it in really well - better to put on before going to bed than in the morning before work/school). FYI, it comes in a very small bottle.
Date published: 2011-07-07
Rated

5

out of

5
by
Olivia
from
I've had problems with hormonal acne on my T-Zone - specifically the chin and even my cheeks. I used this cream treatment and it significantly cut down the blemishes to the point where it just about disappears. The only thing that seems to work!
Date published: 2017-03-28
Rated

5

out of

5
by
Tony
from
This is a producr i hve been using for 6 months and it is great,non irratating and really helps complexion overall. You can safely apply to entire face,aviding of course eye area.
Date published: 2013-07-17
Rated

5

out of

5
by
Manon
from
You want to have skin without pimples from blackheads, oil, stress, etc. this is the product that you must use. I have tried many other products and this works all the time!
Date published: 2014-09-15
Rated

2

out of

5
by
CdnMale
from
Watery and ineffective
I bought this from my local pharmacy and found it watery and ineffective compared to Clean & Clears Persa-Gel.
Date published: 2022-04-02
Rated

5

out of

5
by
Anna
from
I have used this product for years, and find it is the only one that works for me.
Date published: 2018-04-18