Pampers Easy Ups Training Underwear Super Pack Hello Kitty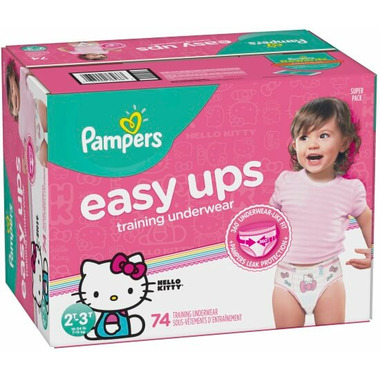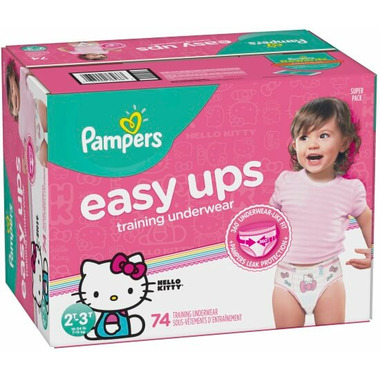 Pampers Easy Ups Training Underwear Super Pack Hello Kitty
Size:
Pampers Easy Ups are an easy way to underwear! Pampers Easy Ups Training Underwear have a 360 Degree stretchy waistband that moves with your toddler, giving her a fit that's just like real underwear. The elastic waistband helps her to pull up her Easy Ups with ease, like a big girl. They also tear easily at the side seams for easy removal, just in case!
Easy Ups are super soft, like cotton underwear, to keep her comfortable, while the Dual Leak Guard Barriers will keep her confident-helping prevent the leaks that can happen when she moves. Plus, Pampers Easy Ups are the only training pants with Extra Absorb Channels to give her the outstanding Pampers Leak Protection she needs during the day AND night. A collection of Hello Kitty designs will help make potty training fun! Pampers Easy Ups: she'll think it's underwear. You'll know it's Pampers.
Features:
360º Stretchy Waistband—for an underwear-like fit that's easy for your toddler to pull up and down
Pampers exclusive Extra Absorb Channels™ provide outstanding protection against leaks, day or night
Dual LeakGuard Barriers™ help stop leaks where they happen most
Super soft, like cotton underwear
Easy-tear sides designed to help make removal easy
Easy Ups™ Training Underwear are available in sizes 2T–3T, 3T–4T, and 4T–5T
Hello Kitty® designs help making potty training fun
Materials:
Petrolatum, Stearyl Alcohol, Aloe Barbadensis Leaf Extract.

Caution: keep away from any source of flame. Pampers training underwear, like almost any article of clothing, will burn if exposed to flame. To avoid risk of choking on plastic, padding, or other materials, do not allow your child to tear the training underwear or handle any loose pieces of the training underwear. Discard any torn or any loose pieces of the training underwear. To avoid suffocation, keep all plastic bags away from babies and children. If you notice gel-like material on your baby's skin, don't be alarmed. This comes from the training underwear padding and can be easily removed by wiping your baby's skin with a soft, dry cloth.