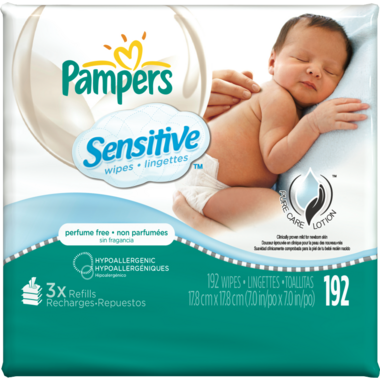 192 Count
Pampers Sensitive Wipes
is rated out of
5
by
2072
.
---
Description
Changing your baby can be one of the most loving moments of the day. With Pampers Sensitive Wipes' unique Softgrip Texture your baby will enjoy less wiping for more gentle cleaning. They are clinically proven mild, dermatologist-tested, hypoallergenic and perfume-free, which helps make changing time even better. Plus, Pampers Sensitive wipes are 20% thicker than our regular wipes. During changing time, give your baby our best gentle clean, Pampers Sensitive wipes.

Features:

Less wiping for more gentle cleaning
20% thicker versus regular Pampers wipes
Softgrip Texture for a gentle clean
Dermatologist tested
Perfume free and hypoallergenic
Clinically proven mild
Perfect for refilling the Pampers Sensitive Wipes Tub

Earn Pampers Rewards Points!

Ingredients: Water/EAU/Agua, Citric Acid, PEG-40 Hydrogenated Castor Oil, Benzyl Alcohol, Sodium Citrate, Phenoxyethanol, Sodium Benzoate, Xanthan Gum, Disodium EDTA, Bis-PEG/PPG-16/16 PEG/PPG-16/16 Dimethicone, Caprylic/Capric Triglyceride, Ethylhexylglycerin, Aloe Barbadensis Leaf Juice, Bisabolol, Chamomilla Recutita (Matricaria) Flower Extract, Caprylic/Capric Triglyceride, Tocopherol.
This product is excluded from any special promotions or coupons.
Rated

3

out of

5
by
doritosranch
from
Texture is too slipery
My daughter has sensitive skin, after experiencing continuous eczema outbreaks, I bought Pampers Sensitive Wipes, which cost more, hoping that it will help to reduce the skin irritation. The wipes has less scent than the normal wipes, but texture is the same, which is slippery and making it difficult in picking up solid wastes, and the conditioner on the wipes is making the wipes even more slippery. Too bad that I have bought a whole box of 9pk. I ended up rinsing every wipe before using it on my daughter. I've learned that water works best. I am switching to another brand, that is not as slippery, bigger in size, and does not need rinsing.
Date published: 2013-09-16
Rated

5

out of

5
by
AndreaG
from
Great product
(This review was collected as part of a promotion.) This is a wonderful product. It has a lot of uses.
Date published: 2016-05-02
Rated

5

out of

5
by
Chilba
from
Better than Huggies
(This review was collected as part of a promotion.) These wipes are great, my daughter had rashes when she was new born, and when we used huggies she had really bad rashes. No matter what I did changing her diaper as often cleaning with diaper rash cream or giving her a bath, she always had a big rash using huggies wipes. As soon as we switch to pampers sensitive her rashes gradually disappeared. She barely has a rash maybe like once when she was sick but it's rare she had a rash. Love the sensitive wipes.
Date published: 2016-05-02
Rated

5

out of

5
by
yackker
from
nice and soft
when my son was born i didn't use wipes, i would just rinse him and dry him off. However once he started solid foods wipes were needed for those sticky messes. I like the softness of these wipes, however i wish they were a little moister to clean my little guy up. Perhaps it is to ward off diaper rash, but you end up having to scrub a little harder to get stuck on messes.
Date published: 2014-11-15
Rated

3

out of

5
by
LauraJasonbabyA
from
they are ok
I only use Pampers brand when it comes to diapers so my mother in law purchased these wipes for me. I thought it was great that I could have a refillable container. The downside, I find them quite small compared to the other no name brand that I use, and have to use more of them. On initial opening the wipes were quite dry even after flipping the entire stack over from bottom to top in the container. For the ones that were wet, they did clean well but I still had to use more of them and with only 64 in the container I feel this is not a good value unless they are on sale. I would still recommend pampers wipes as they are thick, and gentle on baby which is a bonus.
Date published: 2014-06-05
Rated

5

out of

5
by
Boobui
from
The best wipes
These are the best wipes I have used. While some others felt like wet paper towel, Pampers wipes are soft and make cleaning baby's bum smooth and without irritation. Even my older child who is toilet trained prefers pampers wipes to toilet paper! I like that Pampers makes a sensitive and scent free version. Although, I use both scented and scent free ( depending on what is available in store when I need to buy them, I can see how the sensitive version would be beneficial for those with extra sensitive skin or those with allergies to scent. Overall, great job Pampers on making the best wipes my whole family can use.
Date published: 2017-12-30
Rated

4

out of

5
by
lacouleurzero
from
Great wipes
Of all the wipes we tried (including Pampers & Huggies), the Pampers Sensitive are the best so far. The wipes are thick and you can feel the quality. More importantly, they don't irritate my baby's very, very sensitive skin. I still pat dry after using these wipes as an extra precaution to keep skin dry and avoid any product residue from the wipes. The wipes do have a very mild scent, which doesn't bother my perfume sensitivities, and is the least bothersome of all wipe scents so far. This may sound trivial, but the packaging also makes them super easy to replenish mid diaper change (vs. some other Pampers wipes that we bought, for which you absolutely need 2 free hands).
Date published: 2015-05-29
Rated

1

out of

5
by
jennifer77720
from
Great on sensitive skin but poorly assembled
We have two children under the age of two so, as you can image, we go through quite a few wipes. We bought these with the arrival of our second child as his skin was very sensitive. As far as doing the job is concerned they work really well though the smell is a little overpowering. The only reason we won't be buying these again is that 1)they have to be removed from their plastic wrapping to be put in the dispenser which is kind of messy 2) they aren't assembled properly meaning that whenever you reach for 1 wipe, 5 or 6 come out because they all stick together. I use the pampers dispenser so it's not the box.
Date published: 2013-08-29