Parasol Co. Diapers Discover Collection
Parasol Co. Diapers Discover Collection
is rated out of
5
by
43
.
- Max: 4
- We're sorry, this product is no longer available!
- Shop for other products in: Disposable Diapers

A re-imagined diaper.
Luxuriously Soft Top Sheet
Compare the feel of a Parasol diaper to your current diaper and you'll see what they're talking about. This is the softness your baby deserves.

Eco-Conscious and Baby Safe
Their diapers use fluff pulp harvested from sustainably managed forests - they are hypoallergenic, chlorine-free, fragrance-free, lotion-free, latex-free, and free of lead and heavy metals.
Superior Absorbency Without the Bulk
Their diapers go through rigorous performance testing so you can trust your Parasol diapers are highly absorbent, effective and comfortable for your baby -one diaper for both day and night use.
Perfect Fit
Gentle, latex-free and hygiene-grade elastic keeps a comfortable fit around your little one. It's also high rise and full back coverage. Good for overnight use.
Breathable Backsheet
Keeps your baby's skin drier and happier. Safe and lead-free inks capture the beautiful, hand-painted brush strokes of artist Ashley Goldberg.
Certificates:
Nordic Swan Eco Label
PETA Cruelty Free and Vegan
PEFC Forest Sustainability
IFS HPC & Safety of Diaper Manufacturer
SZU National Institution of Health
TUV Inspection of Diaper Manufacturer
Materials:
Polypropylene non-woven, Super-absorbent Polymer (Sodium Polyacrylate), Wood Pulp (chlorine-free), Polyethylene Film, Latex-free Hygiene-grade Elastic, Hook and Loop Closing Tabs

Size Chart & Quantities Per Pack: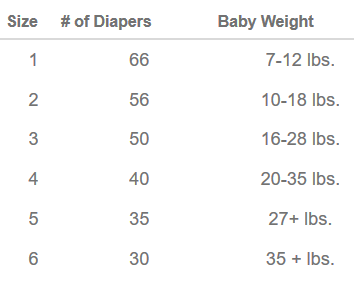 Manufactured in Czech Republic.
Rated

5

out of

5
by
Kylie
from
Absolutely love this brand of dispers. My son sleeps 12 hrs overnight and these are the only natural diapers that I have found that last through the night with him. They are so soft so it helps with his sensitive, eczema prone skin too. I just wish they weren't so expensive. I do usually get them on sale, but as he grows and goes up sizes- you get less diapers for the same amount of money. I do love them tho, so the price is worth it to me. The designs and how cute they are are just an added bonus. I do wish that you could get the wipes and the training pants from this brand on well.ca too.
Date published: 2018-06-25
Rated

5

out of

5
by
Georgina & Zac Rinaldo
from
Our baby has been a Parasol baby since the moment he joined us earth side in the hospital! We love Parasol not only because they are seriously the SOFTEST diaper, our little one has never had a diaper rash...yes you read that correct. Another thing we have never had is a diaper blow out!! We hear all these stories yet never experienced one! Thank you Parasol. These diapers are a great size, have great coverage and absorbency. If you've been debating on a diaper brand this is it! Your baby will thank you! We can't live without our Parasols!
Date published: 2017-11-07
Rated

3

out of

5
by
Ita
from
I wanted to like this brand because I have read so many positive about it. So I bought the size 4 during one of the sale event on well.ca. The pros: Yes, the diaper feel softer and thinner than the other brands I have tried before. No rash either. The cons: The outer material sticks to my son's pants and created lint every time I changed him. My son is a heavy wetter and when full of pee after a couple of hours, the diaper looks like it's going to explode. I give 3 stars for the cons. Maybe it works for others but certainly not for my son.
Date published: 2017-12-14
Rated

4

out of

5
by
Tiffany
from
I love getting these diapers when they are on sale. They have a wider cut than other brands which I like. It gives more coverage between the legs and fits nice and snug around the legs less leak issues. They are definitely less bulky and nice and soft as advertised. They only complaint I have is that they are not quite as absorbent as my go-to diaper (Kirkland Brand from Costco). It's a non-issue during the day as I'm usually changing diapers more often and I haven't had issues with it leaking with pressure (from sitting in the sling or carrier). Overnight is always when I notice its lack of absorbancy over time. That being said, no leaks, but my daughter definitely notices she's very wet in the morning! Overall, I love these diapers and have purchased them multiple times.
Date published: 2019-08-27
Rated

5

out of

5
by
Lucy
from
LOVE these diapers. I got one pack to try as I usually use Honest brand diapers and loved those. However, after traveling with a baby, these are now my new favorites. We used Honest on the flight over (6hrs) and did a change before the flight and 2x during the flight. Both times during the flight the Honest diapers leaked and we had to do outfit changes for our baby. And then after we landed, baby pooped and sure enough, ANOTHER leak and outfit change. I'm not sure why it happened so often as I hadn't had issues with Honest before. On the flight back, we used Parasol, changed before the flight and 1x during. Absolutely no leaks/blowouts. Parasol was also noticeably softer and didn't bulge up that much when soaked. The only thing is that it's definitely bigger than the same size in Honest brand, so sometimes a bit bulky looking. But I'll take that over leaking and blow outs any day!
Date published: 2018-01-28
Rated

5

out of

5
by
Amy
from
Been trying out multiple brands of diapers for my little one, so far the most reliable (no more explosion yay!) and softest one in the market I can say. The diaper is very absorbent that it can last through the night and unlike some other brand, it doesn't give you a red irritated bum. Highly recommended to babies with sensitive skin!
Date published: 2017-11-13
Rated

4

out of

5
by
Amelia
from
Bought these recently as a trial (yay sales!) and really liked them! They were so soft, similar to seventh generation in absorption in my opinion. But they are just the sweetest designs, quite happy with them, but not sure if we will get many more because we have found other eco friendly options that absorb better (but are less soft!).
Date published: 2018-06-20
Rated

5

out of

5
by
Georgina and Zac
from
Let me start off by saying I researched diapers before my little one arrived and I had slew of variety to see which I would like more. When I went to the hospital I ONLY brought Parasol Co.! Not only are these SERIOUSLY the softest diapers I have ever felt, my little one to this day has NEVER had a diaper rash...I'm not even joking. Another thing we have never experienced, are these so called "blow outs". The coverage and absorbency is phenomenal. Literally, sometimes we think after a #2 that if he was in ANY other diaper there would be one serious mess! We love the diapers, the prints, the softness, coverage and absorbency but we also love what this company is about. Eco-conscious, super safe and none of that toxic stuff you don't want touching your babe! Highly, HIGHLY recommend. To note how much we love these, we were shipping these to Buffalo and crossing the border so we wouldn't have to use any other brand! Thank you Parasol for coming to Canada!
Date published: 2017-11-08