Parasol Co. Diapers Dream Collection
- Max: 4
- We're sorry, this product is no longer available!
- Shop for other products in: Disposable Diapers

A reimagined diaper.
Luxuriously Soft Top Sheet
Compare the feel of a Parasol diaper to your current diaper and you'll see what they're talking about. This is the softness your baby deserves.
Eco-Conscious and Baby Safe
Their diapers use fluff pulp harvested from sustainably managed forests - they are hypoallergenic, chlorine-free, fragrance-free, lotion-free, latex-free, and free of lead and heavy metals.
Superior Absorbency Without the Bulk
Their diapers go through rigorous performance testing so you can trust your Parasol diapers are highly absorbent, effective and comfortable for your baby -one diaper for both day and night use.
Perfect Fit
Gentle, latex-free and hygiene-grade elastic keeps a comfortable fit around your little one. It's also high rise and full back coverage. Good for overnight use.
Breathable Backsheet
Keeps your baby's skin drier and happier. Safe and lead-free inks capture the beautiful, hand-painted brush strokes of artist Ashley Goldberg.
Certificates:
Nordic Swan Eco Label
PETA Cruelty Free and Vegan
PEFC Forest Sustainability
IFS HPC & Safety of Diaper Manufacturer
SZU National Institution of Health
TUV Inspection of Diaper Manufacturer
Materials:
Polypropylene non-woven, Super-absorbent Polymer (Sodium Polyacrylate), Wood Pulp (chlorine-free), Polyethylene Film, Latex-free Hygiene-grade Elastic, Hook and Loop Closing Tabs

Size Chart & Quantities Per Pack: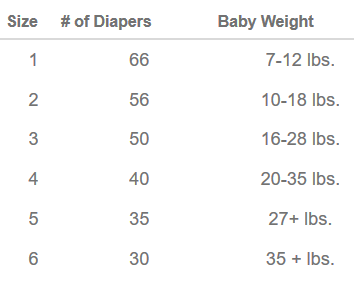 Manufactured in Czech Republic.