Pascoe
Pascoe Neurapas Balance
For A Balanced Mood 100 Tablets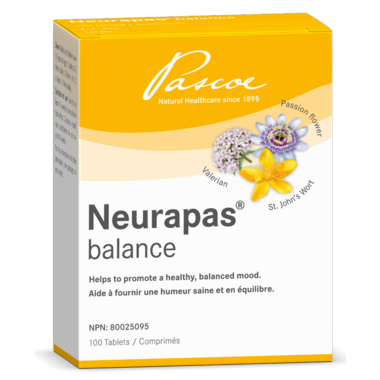 Pascoe
Pascoe Neurapas Balance
For A Balanced Mood
100 Tablets
---
Description
Pascoe Neurapas Balance helps to promote a healthy, balanced mood.

Directions: Adults, children (>12 years): 2 tablets 2-3 times daily. Children (6-12 years): 1 tablet 1-3 times daily.Tablets should be swallowed whole with a little water.

Caution: NEURAPAS® balance contains very small doses of St. John's wort, below the dosage normally seen for drug interactions or side effects. However, please read carefully through these contraindications.

Do not use: If you are allergic (hypersensitive) to St John's wort, Passionflower, Valerian or any of the non-medicinal ingredients. If you are pregnant or breastfeeding. If you are taking any of the medicines mentioned under interactions, prior to consulting your doctor. If your skin is hypersensitive to light or if you are undergoing phototherapy or any photodiagnostic procedures.
In children under 6 years of age. If you are taking contraceptive medicines. Do not exceed the recommended dose. Patients with signs and symptoms of depression should seek medical advice for appropriate treatment.
If you are a light-skinned or photosensitive person, please pay attention to the side effects. Persons using this product should avoid excessive sunbathing or the use of sunbeds or solariums. This product should be discontinued at least 10 days prior to elective surgery due to the potential for interactions with medicines used during general and regional anaesthesia. You must contact a health care practitioner if your symptoms worsen or do not improve after 14 days.
Consumption with alcohol, other drugs or natural health products with sedative properties is not recommended. Consult a health care practitioner if sleeplessness persists continuously for more than 3 weeks (chronic insomnia).
Consult a health care practitioner if symptoms persist or worsen or if you experience sleep disturbances. Exercise caution if operating heavy machinery or driving a motor vehicle or participating in activities requiring mental alertness within 2 hours of consumption. Consult a health care practitioner prior to use if you are taking any anti-anxiety medication, seizure medication, antihistamines, bronchodilators, muscle relaxants or opiates.

Side Effects: Use of St. John's wort herb extract may, especially in fair-skinned individuals, lead to increased sensitivity to sunlight (photosensitization) and therefore produce sunburn-like reactions of skin areas exposed to intense sunlight. There have been rare reports of gastrointestinal symptoms, allergic reactions, fatigue or restlessness. Some people may experience headaches. If you experience any side effects, please make sure to inform your health care practitioner.

Highlights

Features
Triple Herbal Combination
Excellent tolerability
Naturally sourced medicinal ingredients

Ingredients
Dry extract (4.6-6.5:1) of Hypericum perforatum (St. John?s wort) 60 mg Dry extract (3.8-5.6:1) of Valeriana officinalis (valerian root) 28 mg Dry extract (6.2-7.1:1) of Passiflora incarnata (Passionflower) 32 mg Non-medicinal ingredients: Lactose monohydrate, liquid glucose, maltodextrin, silica, talc, magnesium stearate, povidone K30, glycerol, Eudragit-E, indigo carmine (E132), macrogol 6000, croscarmellose sodium.
Shipping & Returns