Paw Patrol Life Size Look Out Tower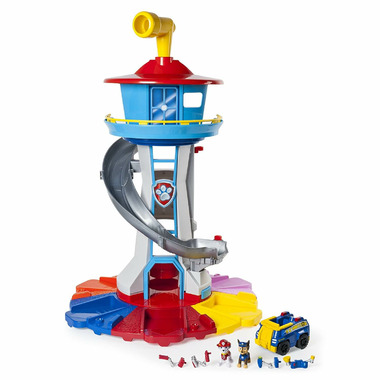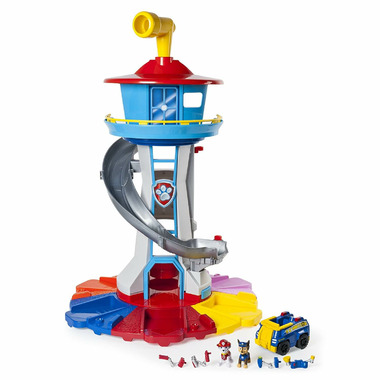 Paw Patrol Life Size Look Out Tower
At over two and a half feet tall, this tower is the perfect size for a child's imagination. Let your little one's ideas run wild as they recreate their favourite scenes from Paw Patrol. Paw Patrol My Size Lookout Tower comes with interactive lights and authentic sounds. Hear each character's signature phrase with the press of a button.
Your child can keep careful watch over the citizens of Adventure Bay using the rotating periscope located at the top of the top of the tower. Paw Patrol My Size Lookout Tower is for ages 3+. Requires 2 AAA batteries (included). Adult assembly required.
Features:
Action Packed Adventure: Help the PAW Patrol spot danger in Adventure Bay with the My Size Lookout Tower! This PAW Patrol playset is an action-packed activity centre for fans of the hit TV show!
Stands Over 2 ½ Feet Tall: At over 2 ½ feet tall, the My Size Lookout Tower brings the excitement of the TV show into your home! Kids can get hands-on with this stimulating playset, designed to keep toddlers up and moving! With so many features to explore within 2 ½ feet, your toddler will have the chance to expand their imagination and develop spatial awareness.
Check Out the Rotating Periscope: Help the pups keep close watch over Adventure Bay using the rotating periscope! This real periscope helps you see where trouble may be lurking! Use it to check out what's happening in all directions. Spot danger? Get on the Pup Pad and alert the Paw Patrol!
Press the Pup Pad for Lights and Sounds: Located right at the top of the tower, the Pup Pad contains everything an intrepid Paw Patroller needs! Kids will feel like one of the pup squad when they push the pad's red buttons and trigger bright lights, or when they press the image of Marshall, Chase, Skye and Rubble and hear their distinct sounds.
Try out the Elevator and Slide: Pups that go up must come down! Soar to adventure and whoosh into fun using the working elevator and slide! Toddlers can place their favorite pup inside the elevator and rocket them from ground level to top floor using the red lever. When excitement's on the horizon, the working slide sends pups whizzing down to the fun.
Get Zooming with the Vehicle Launcher: Send Chase out into adventure using the vehicle launcher! Line up his vehicle to the end of the slide then send him whooshing down. He'll rocket straight from the slide, into his vehicle and take off on a ruff, ruff rescue.
Contents:
1 My Size Lookout Tower
1 Chase Vehicle
1 Chase Figure
2 Chase Pup Packs
1 Marshall Figure
2 Marshall Pup Packs
Requires 2 AAA batteries (included)