Peg Perego Book Scout Completo in Onyx
After 60 years of making carriages, strollers, car seats, high chairs and kid-sized riding toys, the Peg Perego family is known for designing products to meet needs. Every step in the process, from engineering, to production, to shipping, is performed by Peg Perego and no one else--ensuring their customers get top quality products. All Peg Perego baby products are made in Italy.

Book Scout at a Glance:
3 wheels and off-road technology
Great for comfort on all surfaces
Sheer elegance, comfortable, adjustable, leather look handle
Easy to open, fold and push with just one hand.
Side pirouette control
Easy Drive System 360 degree of manoeuvrability (12 ball bearings)
Soft Ride wheels (manoeuvrable even on bumpy surfaces, tiles, cobblestones...)
Roomy basket with easy-load system.
G-Matic system for attaching modular components to the chassis.
Additional Features:
Travel System Compatible with the Primo Viaggio Infant car seat.
Easy Drive, Wheels with 12 ball bearings and suspension allow for 360 degree agility and less effort in pushing.
One piece Adjustable Handlebar, Practical and easy to push with one hand, the handlebar can be modified to fit the parent's height preferences.
Designed to close with ease and very little force. This stroller can even be folded with just one hand.
Tested and approved for children from birth. The seat can recline in multiple positions, adding to the comfort of child on long journeys.
The large canopy hood includes a built-in loop where parents can attach their child's favorite toys.
The one-piece handle gives users the opportunity to easily push and manoeuver the stroller with just one hand. The ergonomic design also brings comfort to the user when they push the stroller with both hands.
The seat can easily be placed in either forward or rear-facing position, allowing child to face you or the world ahead.
Constructed with a strong, yet lightweight, aluminum chassis. Provides a solid base for controlled movement and stability.
Book Scout includes:
Chassis
Reversible Seat
Rain Cover
Foot Muff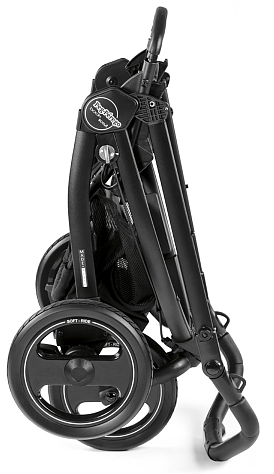 Similar All Terrain Strollers
Other Peg Perego Products