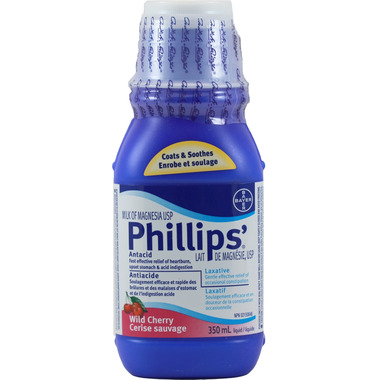 Description
Phillips' Milk of Magnesia USP is antacid/laxative liquid for fast effective relief of heartburn, upset stomach and acid indigestion plus it provides gentle, effective, relief of occasional constipation.

Each mL contains: 80 mg of magnesium hydroxide.

Antacid/Laxative.

SHAKE WELL BEFORE USING. KEEP TIGHTLY CLOSED AND AVOID FREEZING.

Caution: Consult a doctor before taking this product if you suffer from kidney disease, are on tetracycline, or have noticed a sudden change in bowel habits persisting for over 2 weeks. Not to be used when abdominal pain, nausea, fever or vomiting are present. Do not take within 2 hours of other medicines because the effectiveness of the other medicine may be altered. Overuse or extended use may cause dependence for bowel function. If symptoms persist for more than 1 week, see a doctor. Rectal bleeding or failure to have a bowel movement after use may indicate a serious condition; discontinue use and consult a doctor. In case of accidental overdose, contact a Poison Control Centre or your doctor immediately. KEEP OUT OF REACH OF CHILDREN.

Antacid: Adults: 1 to 3 teaspoonfuls (5-15 mL) with a little water up to 4 times a day or as directed by a doctor.

Laxative: Take the recommended dosage, preferably at bedtime. Follow with a full glass of water. Produces bowel movement in 1/2 to 6 hours. Age 12 years and older: 2-4 tablespoons (30-60 mL); 6-11 years: 1-2 tablespoons (15-30 mL); 2-5 years: 1-3 tablespoons (5-15 mL). Consult a doctor for children under 2 years.

Non-medicinal ingredients: ethanol, carboxymethylcellulose sodium, cherry flavour, citric acid, D&C Red #28, glycerin, microcrystalline cellulose, sodium citrate, sodium hypochlorite solution, sucrose, water, xanthan gum.
Shipping & Returns
Unfortunately, due to the nature of this item, we cannot accept any returns.
We are only able to ship this item to Canadian customers.
Click here for more information