phil&teds
phil&teds Lobster Portable High Chair - Black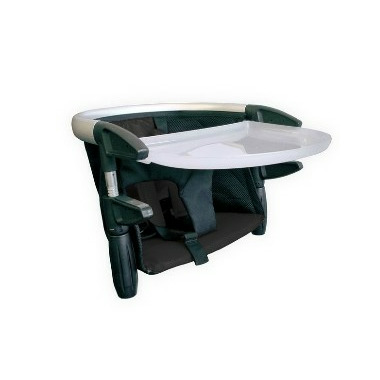 phil&teds
phil&teds Lobster Portable High Chair - Black
philandteds Lobster Portable High Chair - Black
is rated out of
5
by
11
.
---
Description
Have a Lobster at the table everyday!
Smart & stylish: The brushed stainless steel frame and robust, easy care fabrics are not only strong and durable, but so good looking you'll be turning heads at every bench and table top you latch your lobster onto!
Snug & secure: There'll be no wriggling out of this one! Smaller children often have trouble sitting securely in most regular highchairs. The comfy padded shoulder straps and 5-point safety harness allow for wriggle room - not wriggle through!
Easy cleaning: No need to subject your little angel to any more grubby restaurant highchairs! Junior will love dining out on Lobster. Breakfast, lunch and dinner will wipe right off the easy clean fabric. Or simply slide the seat out of the frame and handwash. Lobster genius.
Easy on, easy off: The twist-on and twist-off mechanism is a piece of cake for adults, but not so easy for little hands. The firm finishing point of the turn lets you know it's secure. Suits most table thicknesses.
Claw strength: Strong, secure and safety certified. Clamps on to almost any table with super-secure pincer-like clamps for a worry-free grip every time.
Ready, set, eat: Super fast setup and pack down. Feeding time is often challenging enough without adding an awkward and cumbersome high chair into the mix. Pick it up by the frame, and the lobster will literally fall into position.
Features:
Safety Certified
Age 6 months - 3 years
Product weight: 1.8kg / 3.9lbs
Max load: 17kg / 37lbs"
Max table thickness: 95mm / 3.7"
Min table thickness: 20mm / 0.8"
5-point safety harness
Wipe clean​
We're sorry! This item does not qualify for free samples.
This product is excluded from any special promotions or coupons.
Shipping & Returns
Unfortunately, due to the nature of this item, we cannot accept any returns.
We are only able to ship this item to Canadian customers.
This product cannot be shipped to Remote locations.
Click here for more information
Rated

2

out of

5
by
Meaghan
from
We bought this chair with the intention of using it as our primary high-chair - both "on the go" and at home. Unfortunately, it doesn't work for this purpose. It is difficult to to clean, the tray doesn't attach to the chair so babies can fling it around very easily, it is VERY deep so babies have to reach straight-out from shoulder height to grab food in front of it, and it's seat is difficult to clean (as a full-fabric chair, it can't be wiped down after use). Stick to a regular high chair for at home, and reserve this one for traveling around.
Date published: 2018-08-13
Rated

3

out of

5
by
James
from
Love the Lobster--big BUT--you gotta be vigilent and tighten the hand-screw tighteners with EVERY use, and maybe even during use. Our little one narrowly avoided a short but memorable head-first trip to the cement floor when one tightener let go and left him hanging.
Date published: 2019-12-31
Rated

5

out of

5
by
Lisa
from
LOVE LOVE LOVE this product, gadget, life saver!!! Rather than put baby in a dirty, food covered and over used high chair in a restaurant this is the perfect solution. So easy to use, comfortable and brings baby that much closer to the table to enjoy meals with you. We have had so many comments about it when we are out, people are intrigued with it. Fold ups easy for storage and comes with a great bag to carry around with.
Date published: 2012-07-05
Rated

5

out of

5
by
Priscilla
from
This chair is SO portable. I bought two for my twins. Before this purchase, I first bought Chicco360 hook on chairs, which are great, but then I learned how difficult and time consuming they were to disassemble and fold for travel---yeah, TWO of them---and they were heavy! So now I have two Phil N Teds LOBSTER chairs to bring with us everywhere, because of how conveniently simple the design is, and how amazingly compact they are. And when this chair is set up, I really like how the child sits right against the table, because there is no frame section in between the child and the table that would get totally soiled with food, as with the Chicco360. This feature is an improvement to the Phil n Teds METOO, which had recalls and then design revisions due to the frame being an amputation hazard. The LOBSTER does not work on all types of tables, but when it works, it does what its supposed to do, and it's a great product.
Date published: 2012-06-15
Rated

5

out of

5
by
Marnie
from
Loooooove this chair! We purchased it specifically for camping and it was incredible! The only place we could "trap" our very active toddler (16 months). Lightweight, compact, easy to attach and simple to clean. What more could you ask for??
Date published: 2014-08-11
Rated

5

out of

5
by
Lindsay
from
This chair is fantastic. We are using it with our 15 month old. We have used it camping, at home and in restaurants. It is light way and packs up really small which makes it so handy for travel. I love it and would recommend to anyone!
Date published: 2015-07-13
Rated

5

out of

5
by
Adrienne
from
Slick design. We are very happy with ours and use it often with our 9 month old. Feels very sturdy once tightened and it's nice for baby to be right at the table with everyone.
Date published: 2016-06-02
Rated

5

out of

5
by
Mae
from
I really like that my daughter is able to sit at the table with us and it is so compact (easy for traveling or going to a restaurant).
Date published: 2013-01-25