phil&teds
phil&teds Lobster Portable High Chair - Red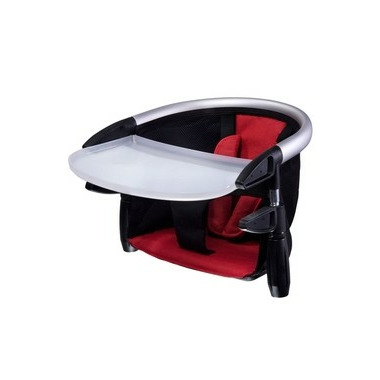 phil&teds
phil&teds Lobster Portable High Chair - Red
philandteds Lobster Portable High Chair - Red
is rated out of
5
by
13
.
---
Description
Have a Lobster at the table everyday!
Smart & stylish: The brushed stainless steel frame and robust, easy care fabrics are not only strong and durable, but so good looking you'll be turning heads at every bench and table top you latch your lobster onto!
Snug & secure: There'll be no wriggling out of this one! Smaller children often have trouble sitting securely in most regular highchairs. The comfy padded shoulder straps and 5-point safety harness allow for wriggle room - not wriggle through!
Easy cleaning: No need to subject your little angel to any more grubby restaurant highchairs! Junior will love dining out on Lobster. Breakfast, lunch and dinner will wipe right off the easy clean fabric. Or simply slide the seat out of the frame and handwash. Lobster genius.
Easy on, easy off: The twist-on and twist-off mechanism is a piece of cake for adults, but not so easy for little hands. The firm finishing point of the turn lets you know it's secure. Suits most table thicknesses.
Claw strength: Strong, secure and safety certified. Clamps on to almost any table with super-secure pincer-like clamps for a worry-free grip every time.
Ready, set, eat: Super fast setup and pack down. Feeding time is often challenging enough without adding an awkward and cumbersome high chair into the mix. Pick it up by the frame, and the lobster will literally fall into position.
Features:
Safety Certified
Age 6 months - 3 years
Product weight: 1.8kg / 3.9lbs
Max load: 17kg / 37lbs"
Max table thickness: 95mm / 3.7"
Min table thickness: 20mm / 0.8"
5-point safety harness
Wipe clean​
We're sorry! This item does not qualify for free samples.
This product is excluded from any special promotions or coupons.
Shipping & Returns
Unfortunately, due to the nature of this item, we cannot accept any returns.
We are only able to ship this item to Canadian customers.
This product cannot be shipped to Remote locations.
Click here for more information
Rated

4

out of

5
by
Cherlyn
from
We love the Lobster chair! It's so easy to attach, remove and, most importantly, CLEAN! It collapses nice and small and has a handy travel bag too. We've actually decided not to use a standard high chair at all, but instead simply use the Lobster at home and when we are out and about. The only downside is that the food tray doesn't really attach, so it's easy for my little guy to move it around and make a bigger mess than necessary. We'd definitely recommend this product!
Date published: 2012-02-22
Rated

5

out of

5
by
Tiffany
from
Wonderful product. Sturdy, lightweight, EXTREMELY compact, easy to clean, and definitely worth every penny! We travel internationally, and it fits no problem in carry-on, backpacks, checked luggage, and beneath the stroller in its basket. We use it for sending with babysitters, for second (guests) babies, and around town. I use it at least twice a week. I honestly don't know what id do without it. Highly, highly recommend it.
Date published: 2012-06-06
Rated

3

out of

5
by
Genevieve
from
The idea is great and I wanted to love this chair, but 3/4 of the tables we try this on don't work. Most tables at relatives' houses have lips underneath so there's only a very short table surface to clamp on, and the seat becomes wobbly. We have had better luck on restaurant tables, but then restaurants always already have high chairs, so it's far from being as useful as I thought it would be...
Date published: 2018-09-28
Rated

3

out of

5
by
Helen
from
My 6-month-old was hard on it and the plastic piping that threads the seat through the metal frame/clamp piece popped through the casing after 2 months, the sheet of plastic that gives the seat structure cracked across inside the canvas and the clamp pads fell out. The seat is deep, and he's small for his age, so he has to raise his arms to shoulder height to reach his food. He's now 18 months and we still use this chair. I wasn't impressed with how quickly the first one wore out, but this second one has been in use for 4 months and so far so good. It's compact and convenient, backed by a decent warranty. For a larger child it might not fit to age three, but it probably will for us. Also this chair hasn't fit on about half the restaurant tables we've tried it with. The clamp requires a flat, thick, deep surface with no lip. And no pedestal tables. Another reason it wouldn't last to age three unless you have a very light 3-year-old.
Date published: 2014-02-22
Rated

5

out of

5
by
Katrina
from
Love this high chair. Perfect for outdoor eating in the summer. Set up and take down is a breeze. Easy to grab and take anywhere. My tray seems to fit snuggly between the claws but my little guy is only 10 months. We don't eat in a lot of restaurants so we have been able to use it everywhere we have gone so far.
Date published: 2012-06-05
Rated

4

out of

5
by
Morgann
from
Love this chair for restaurants, we are now able to sit in a booth:) Also love that it attaches well to the eat up bar at my house:) would totally give it a 5 star rating if it came with a bag to put it all in and if the tray was more secure, I always use a sticky placemat instead:)
Date published: 2013-02-21
Rated

5

out of

5
by
Andrea
from
It's awesome! My son loves to sit in it and I love the fact that I can take it to restaurants and its his own chair! I have gotten lots of compliments for it!
Date published: 2012-10-08
Rated

5

out of

5
by
Zoe
from
We love how this works everywhere. My sister has one too & gone through 2 kids already & still in great shape. Light & easy to travel with.
Date published: 2017-08-25