Phytogenix Ultimate Green Tea & Green Coffee Bean Bonus Pack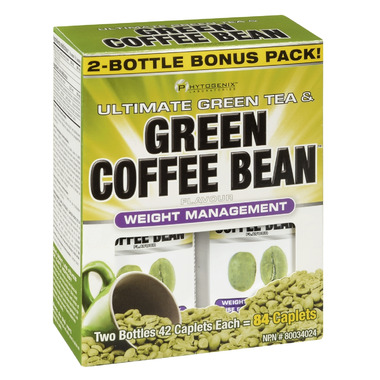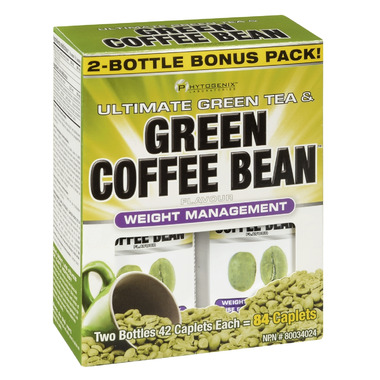 Phytogenix Ultimate Green Tea & Green Coffee Bean Bonus Pack
Green coffee beans are coffee beans that have not been roasted. They are fresh and this is why the beans are green and not brown. Roasting green coffee beans destroys chlorogenic acid -- a natural compound that is found in all green coffee beans. Phytogenix Ultimate Green Coffee Bean Extract is infused with Green Tea for ultimate weight management benefits.
Recommended Use:
Helps with weight management when used in conjunction with a reduced calorie diet and exercise program.
Recommended Dose:
Adults: Take 3 caplets in the morning with breakfast and 3 caplets 6 hours later with an afternoon snack or meal, each time with 250 mL of water. Do not exceed 6 caplets in a 24-hour period. Do not take within 5 hours of bedtime. This product should be used in conjunction with a reduced calorie diet and exercise program.
Medicinal Ingredients (per caplet):
Green Tea Extract (Camellia sinensis) (leaf) ... 200 mg
17.25% EGCG
8.5% Caffeine
Non-Medicinal Ingredients:
Green Coffee Bean Extract ... 33.33 mg
Microcrystalline cellulose, dicalcium phosphate, maltodextrin, croscarmellose sodium, film coating (hypromellose, hydroxypropyl cellulose, titanium dioxide, macrogol, propylene glycol), stearic acid, magnesium stearate, silica.
Risk Information:
KEEP OUT OF REACH OF CHILDREN. Consult a healthcare pracitioner prior to use if you are pregnant or breastfeeding, have a liver disorder or develop symptoms of liver trouble (such as abdominal pain, dark urine or jaundice), or if you have an iron deficiency.