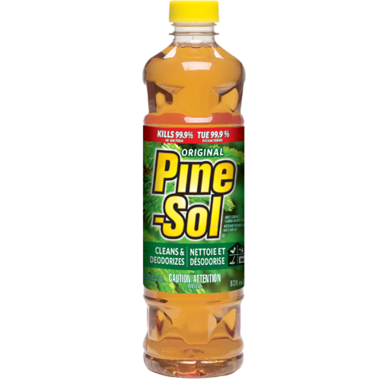 Description
Pine-Sol® Original Clean® can deodorize and cut grease, grime and dirt in any room. There's a reason this powerful disinfectant cleaner has been in your family for generations: it works!
Features:
Powerfully cleans

Deodorizes and has a clean, fresh scent

Disinfects and kills 99.9% of germs*

Longer-lasting scent

Even stronger on bathroom soils (soap scum, rust and hard water)
*Salmonella enterica. Staphylococcus aureus, Influenza A virus (Hong Kong strain)

Directions:

General Cleaning and Deodorizing:
Use 125mL per 8L of water. No rinsing required except on rubber or asphalt tile. For tough jobs, use full strength and rinse immediately. For no-wax floors, only use diluted and rinse.†
Disinfecting:
Apply disinfectant product with a clean sponge or cloth, full-strength on hard, nonporous surfaces. Wet surface, let stand 10 minutes, and then rinse. For heavily soiled surfaces, remove excess dirt first. Toilet Bowls: Pour 125mL in the bowl and brush thoroughly, including under the rim.
Laundry:
Rub in full-strength on grease spots or heavily soiled areas before washing. For extra cleaning and deodorizing power, add 250mL to load. Use only on white or colourfast fabrics.
†Do not use on marble, aluminum, or wood that is unfinished, unsealed, unpainted, waxed, oiled or worn.
Shipping & Returns