Platinum Naturals EasyCal Bone Builder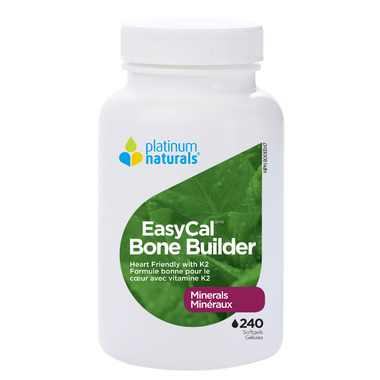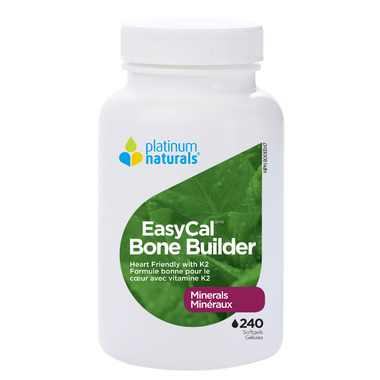 Platinum Naturals EasyCal Bone Builder
EasyCal® Bone Builder is an easily absorbed calcium supplement specially formulated for seniors and those with low bone density.
For calcium to be deposited in the bones it must first be absorbed. Magnesium and vitamin D have been researched extensively for their role in aiding calcium absorption. Formulated with evening primrose oil for optimal absorption, EasyCal® Bone Builder is ideal for seniors, people with weak digestive systems and those with low bone density.
Features:
Gluten Free*
Lactose Free
Natural
Peanut Free
* Products are manufactured without gluten but not tested.
Co-Factors for Bone Health
Co-factors are compounds that work with nutrients to ensure optimal absorption and in this case help you maintain strong and healthy bones. Co-Factors for bone health include:
Magnesium
Zinc
Boron
Vitamin C
Vitamin D
Vitamin E
Vitamin K2
Evening Primrose Oil
Calcium Facts:
99% of the calcium in your body is found in your skeleton and teeth.
1% remainder is necessary for vital body functions, e.g. nerve transmission, muscle contraction and renal function.
Resorption is the body stealing calcium from our skeletal structure to insure a supply of calcium to these vital functions. Therefore, a deficient dietary intake of calcium will lead to osteoporosis.
Recommended Adult Dosage:
Take 3 capsules daily.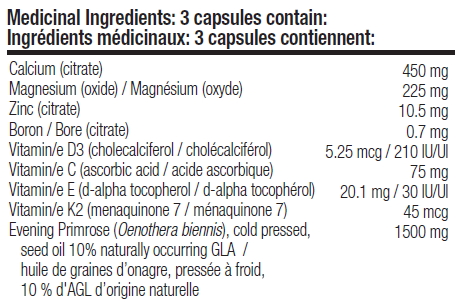 Non-Medicinal Ingredients:
GMO free soy lecithin, cold pressed olive oil, beeswax.
Capsule Ingredients:
Gelatin, glycerin, purified water, natural caramel colour.
Caution:
Contains vitamin K. Consult a health care practitioner prior to use if you are taking blood thinners.
Keep out of reach of children.



Mike:
more than a year ago
After using this product for over a year, I had a follow up mineral bone density. Doctors had wanted me on the phosphate drug to halt bone loss but I did not want to take them due to my age and many reports of that drug class actually contributing to breaks. The follow up test revealed a slight improvement in bone density! The doctors could not really argue with me over these results....clearly the Bone Builder calcium supplements are working! I'm anxious to see what my next test will reveal.

The success of this product is in its mineral combination. Calcium without Vitamin K will do little if anything to improve bone strength.

I'm a believer and will continue to use this product. So glad Well.ca carries it and at such a great price. It's at least $15-20 less than in my local health food store!
Page
1