Platinum Naturals Multivitamin EasyMulti

EasyMulti® is enriched with omega 3 and 6 and 1,000 IU of vitamin D. It combines essential vitamins and minerals to support your immunity and overall health in just one softgel per day. Made with Superior Nutrient Absorption: nutrients protected in healthy oils enable your body to absorb more of what it needs throughout the day.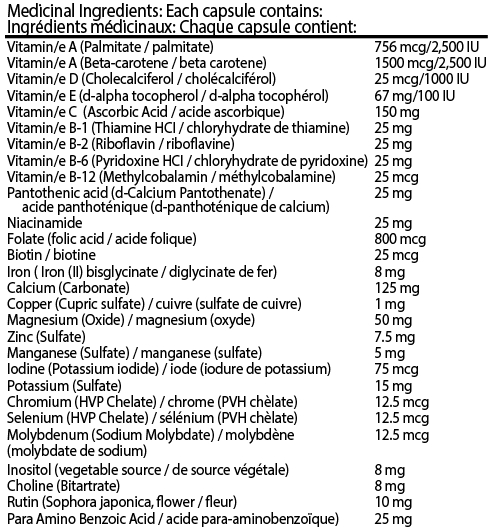 Non-Medicinal Ingredients:
Flax (Linseed) Oil (432 mg), beeswax, lecithin (from soy).
Capsule Ingredients:
Gelatin, glycerin, purified water, caramel (natural colour).
Caution:
Keep out of reach of children. There is enough iron in this package to seriously harm a child. Consult a health care pracitioner prior to use if pregnant or breastfeeding or if you are taking sulphonamides. Hypersensitivity (e.g. allergy) has been known to occur; in which case, discontinue use.