Platinum Naturals Multivitamin Activ-X for Active Women


Activ-X is formulated for performance -increase energy, maximize stamina and recover faster. Choose confidently with NSF® Certified for Sport that ensures activ-X has passed manufacturing facility audit, label claims and banned substance testing. Made with Superior Nutrient Absorption: Nutrients protected in healthy oils enable your body to absorb more of what it needs throughout the day.
Recommended Use: Helps to produce, form and repair connective tissue and to maintain proper muscle function and support cardiovascular health. Helps maintain eyesight and night vision, healthy skin, membranes, bones, cartilage, teeth and gums; and maintain immune function. Source of omega-3 fatty acids, eiosapentaenoic acid (EPA) and docosahexaenoic acid (DHA) for the maintenance of good health. An antioxidant for the maintenance of good health.
Recommended Adult Dosage: Take two (2) softgels daily. Take with food, a few hours before or after taking other medications. Or take two (2) softgels, 30-60 minutes before competition for workout.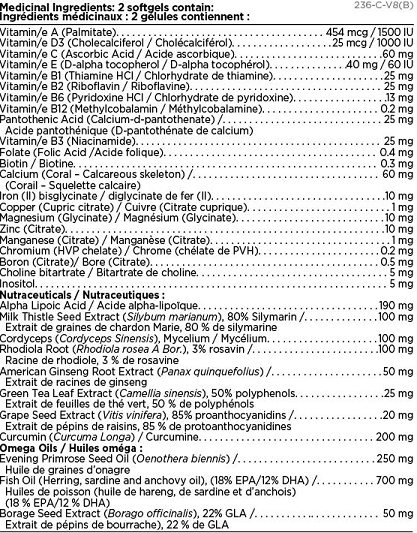 Non-Medicinal Ingredients: Sunflower Lecithin, Medium Chain Triglycerides (from coconut), Beeswax.

Softgel Ingredients: Gelatin, Glycerin, Purified Water, Chlorophyll.

Caution: Consult a health care practitioner prior to use; if you are pregnant/ breastfeeding, taking any medication, have iron deficiency, diabetes, liver, gallbladder, or stomach disease. Contains green tea: stop use: jaundice or unusual symptoms of liver trouble. Cause of liver injury associated with green tea extracts have been reported. Contains alpha lipoic acid: If you experience sweating, paleness, chills, headaches, dizziness and /or confusion, discontinue use and consult a healthcare practitioner. Contains Rhodiola: do not use if you have bipolar/ spectrum disorder.
Formulated without yeast, dairy, corn, gluten, artificial colours or preservatives.