Platinum Naturals Prenatal EasyCal Calcium

Platinum Naturals Prenatal Easycal Calcium for pregnant and nursing mothers, contains a high concentration of calcium per serving to strengthen and support your bones and your baby's growth. It combines a unique blend of vitamins, minerals, omega-3 oils for a synergistic effect. Made with Superior Nutrient Absorption: nutrients protected in healthy oils enable your body to absorb more of what it needs throughout the day.
Recommended Use: Helps to maintain strong and healthy bones and teeth. Calcium intake, when combined with sufficient vitamin D3, a healthy diet, and regular exercise, may reduce the risk of developing osteoporosis. Source of omega-3 fatty acids for the maintenance of good health. A factor in the maintenance of good health.
Recommended Adult Dosage: Take two (2) softgels daily after a meal, preferably after supper or as directed by your healthcare practitioner. For optimal absorption, take all capsules ( up to 2 capsules ) at the same time.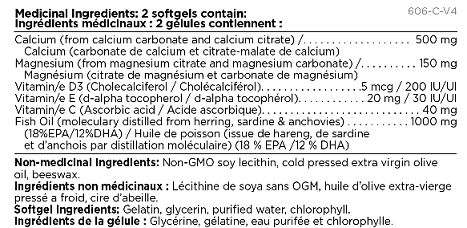 Caution:
Avoid using two (2) hours prior to or until four (4) hours after taking other medications or iron supplements. (Calcium may inhibit the absorption of iron.)
Food allergens: Contains Non-GMO soy lecithin and beeswax.
Formulated without gluten, dairy, corn, artificial colour or preservatives.