Platinum Naturals Prenatal Easymulti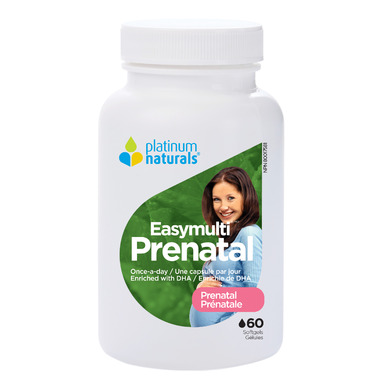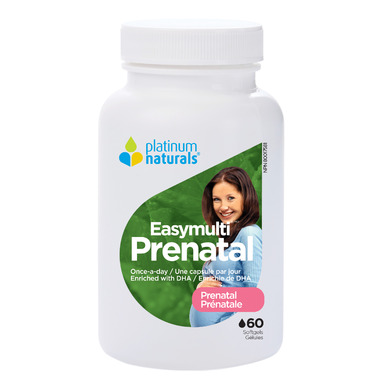 Platinum Naturals Prenatal Easymulti
Featuring a booster of DHA, Platinum Prenatal Easymulti is a comprehensive, single dose softgel multivitamin for pregnant or nursing mothers and those trying to conceive.

Key Ingredients:
DHA: DHA is important for your baby's brain and eye development as well as their hand-eye coordination. If you are like most women, however, you're probably not getting enough DHA from your diet alone.
Iron: Iron deficiency is common in North America, affecting approximately 20% of women in their childbearing years. Supplementing with iron will help reduce fatigue, increase stamina and resistance to infection.
Folic Acid: Folic Acid is required for protein synthesis and hence is essential to support a woman's increased blood volume during pregnancy. Also, folic acid has been shown to decrease the incidences of developing neural tube defects.
Vitamin D: Pregnant and nursing mothers are encouraged to increase their Vitamin D intake in order to maintain their own bone density and to optimize the musculoskeletal development of the fetus.
Calcium: EasyMulti® Prenatal DOES NOT contain calcium as it inhibits the absorption of nutrients, such as iron and hence should be taken separately. Platinum developed Prenatal Calcium to compliment the needs of pregnant and nursing mothers.
Features:
Gluten Free*
Lactose Free
Natural
Peanut Free
* Products are manufactured without gluten but not tested.
Recommended Adult Dosage:
One capsule daily with a meal.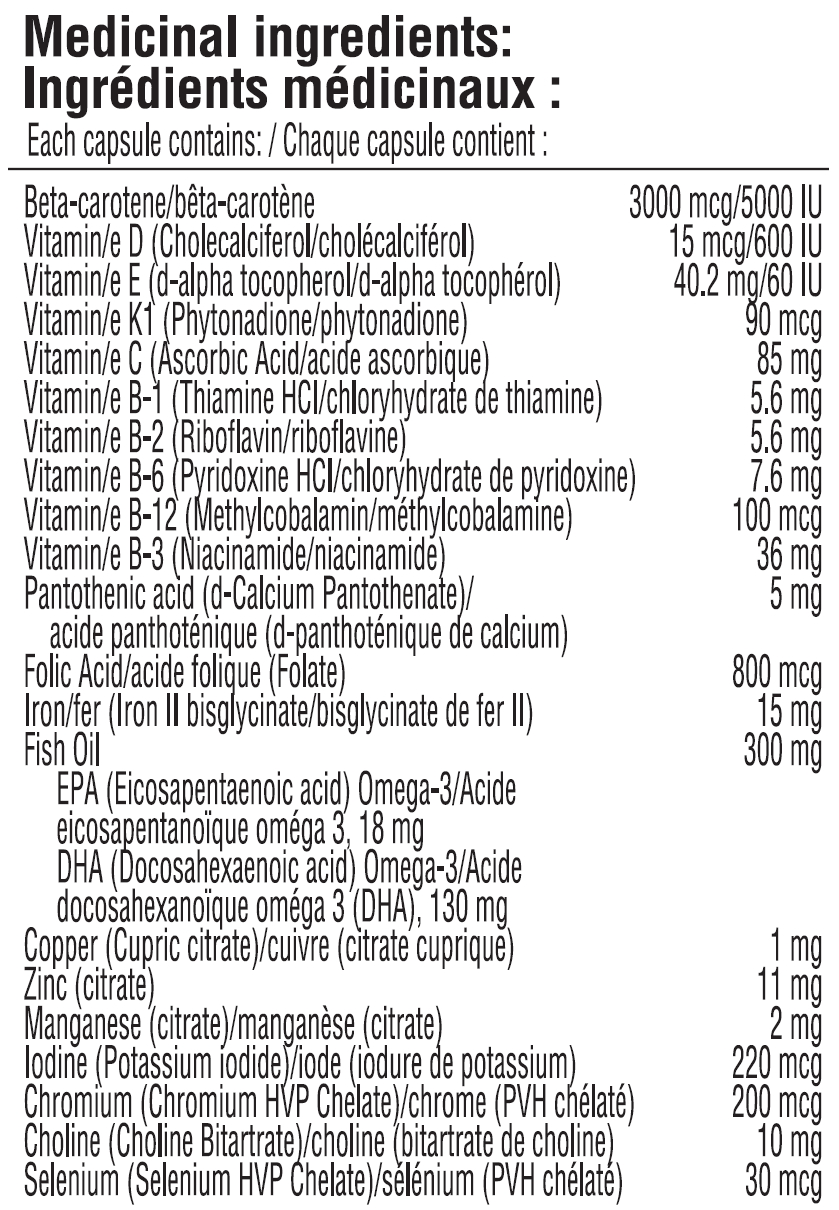 Non-Medicinal Ingredients:
Hypromellose (from vegetable cellulose), Beeswax, Soy Lecithin, Medium Chain Triglycerides (from coconut), Chlorophyll.
Caution:
Contains vitamin K. Consult a health care practitioner prior to use if you are taking blood thinners.
Keep out of reach of children. There is enough iron in this package to seriously harm a child.



Amanda:
more than a year ago
I've been taking these vitamins for just over 4 months, and got pregnant about 1.5 months after starting them. They are easy to take before bed so you don't get the fishy DHA burps, and no upset tummy. I take an additional calcium supplement at the different time of the day since this vitamin does not have any calcium since it inhibits other vitamins absorption when build into the multi. All in all, I would recommend, and am now on my 3rd bottle!
Crystal:
more than a year ago
It's so nice to find a prenatal vitamin that you can take just one a day and not feel sick. PLUS it has the omega 3s. The only downside that I didn't realize until I was breastfeeding is that there is no calcium included. Platinum has a great prenatal calcium supplement as well.
Page
1